Light Green Advisors and AGL Resources
An example of mergers crystallizing sustainability value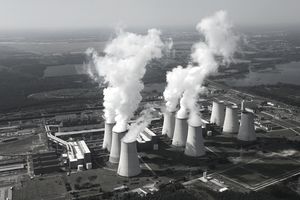 On August 25, 2014 the Wall Street Journal reported that Southern Company plans to acquire AGL Resources, a longtime holding in our Eco Performance Portfolio at Light Green Advisors (LGA) for a 29% premium over its closing price the day before. 
During a week in which US markets went down 6% and energy names declined even more, both boards approved the transaction. This transaction confirmed our expectation that large utilities with significant carbon footprints are actively re-positioning their firms in response to new lower carbon regulatory environments.
LGA's investment premise is that there is a global scramble underway by leading companies to become more resource-efficient and that there are substantial large cap opportunities in this transformation. 
This has partly, but not completely been spurred on by recent EPA rulemaking. The Clean Skies Initiative launched earlier under President Obama by EPA Administrator Gina McCarthy focuses the federal authority on the Clean Air Act onto utility GHG emissions that contribute to climate change. 
Since the Clean Air Act allows each state to develop their own implementation plan, there is still significant variation among states in their approach and prioritization of environmental factors versus cost factors.
Southern didn't purchase a renewable energy company as their regulated utility subsidiaries do not currently operate in states in which renewable energy mandates are important. Southern has received approvals to build a model coal-fired plant with carbon capture and the first new nuclear power plant in decades in its service territory.
My colleague, LGA's Chief Sustainability Officer John Cusack says, "Southern's management is smart enough to act to reduce their carbon footprint in an investment world increasingly wary of potential medium and long-term financially material risk arising from sizable carbon emissions."
The USA is a patchwork quilt of utility regulations in which companies have to meet requirements of local utility regulators more than federal environmental regulations that are essentially guidelines.
It's challenging to explain the US's federal system to European and Asian investors with more centralized national utility regulations.
Should climate-oriented investors applaud? Some divestment advocates suggest that renewable energy companies generate more environmental benefits than natural gas since it is a fossil fuel. Our view is that climate change is too big a problem to be solved by investment into renewable energy companies alone. We need progress in every industry.
We do like renewable energy and LGA was a founding financial advisor to Sun Edison (SUNE), the top solar company in the US on a MW basis at the end of 2014. According to the International Energy Agency (IEA), new renewable energy facilities such as those built by Sun Edison have not contributed as much towards national GHG emissions reductions as the ongoing, 20 year switch from coal to natural gas as a primary fuel used by utilities for electric generation in the USA. So the gradual decarbonization of the electric utility industry is a big deal in terms of impact.
LGA believes that the premium paid for AGL by Southern is attributable to the lower carbon features of its business that were not yet fully priced by the market.
Over the years, we expect to continue to see "sustainability value" get crystallized in M&A transactions.
AGL is  a utility company well positioned for a lower carbon future.  Companies such as AGL that have business models compatible with the Obama Administration's Clean Skies plan and a transition to a lower carbon future will thrive over the next decade.   We have seen value crystallization at several Eco Performance Portfolio holdings in other industries over the past 10 years as industry peers paid substantial premia to acquire innovative resource-efficient companies and re-orient their firms for the future.
Innovation is part of the story as well. In addition to geographic proximity (both AGL and Southern are based in Atlanta), AGL is also a leader as one of the few utilities in the US to regularly invest in "behind the meter" energy efficiency investments.
  Investing in the energy efficiency of energy users – to increase the efficiency with which energy is used rather than how it is generated - is the single most efficient way to reduce GHG emissions according to McKinsey & Company. AGL's pioneering investments behind the meter reflect its willingness to go beyond regulations since such investments are not required in their territories and are still uncommon on the part of US utilities in California as well.
---------------------------------------------------------------------------------------------------------------
For further information, including important financial performance disclosure, please visit www.lightgreen.com