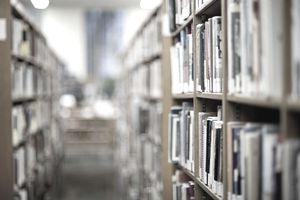 Those who want to work in a library have three career paths from which to choose. You can be a librarian, library technician or library assistant. You can also become an archivist, a related occupation that doesn't involve working in a library.
Each of these careers has different educational requirements as well as distinct duties. Salaries vary as well, and as you might imagine, are closely related to each job's level of responsibility and requirements.
Librarian
Librarians select print and non-print materials for patrons to use in public, school, university and special libraries. They organize these materials and teach people how to use them effectively. They also supervise other library workers and may eventually advance to a job in administration, for example, library director.
You will need to go to graduate school if you want to become a librarian. You must earn a Master's of Library Science (MLS) Degree. Programs are usually one to two years long. Your bachelor's degree can be in any major. To work as a librarian in a public school, you must also be certified to teach. Special librarians, such as those who work in law, medical or corporate libraries, may also need a degree in a specialized field. College librarians typically have an additional degree in a subject area.
The median salary for librarians in 2015 was $56,880 annually and $27.35 per hour.

Learn More About Becoming a Librarian
Library Technician
Working under a librarian's supervision, a library technician acquires and organizes material and helps patrons locate information. Some operate bookmobiles that serve members of the community who can't travel to a library.
Requirements for those who choose this career vary.
Sometimes all that is required is a high school diploma and on-the-job training. Other employers will only hire job candidates who have an associate degree in library technology.
In 2015, library technicians earned a median salary of $32,310 per year or $15.54 hourly.
Learn More About Becoming a Library Technician
Library Assistant
Library assistants provide clerical support. Often known as clerks, they help librarians and library technicians organize materials and make them available to patrons. Their responsibilities also include collecting fines for overdue or lost materials, checking in and out books and other resources and returning books to their shelves after patrons have used them.
Most library assistants have a high school or equivalency diploma, but some employers will hire those who have neither. You will receive on-the-job training.
Library assistants earned a median annual salary of $24,480 or median hourly wages of $10.71 in 2015.
Learn More About Becoming a Library Assistant
Archivist
Like librarians do, archivists make documents and other material accessible to the those who need them. They typically do not work for libraries but instead are employed by museums, universities, corporations and other institutions, as well as government agencies.
It is their job to preserve important or valuable records and documents or those that are expected to be of value or importance in the future.
If you want to work as an archivist, you can, like a librarian, earn an MLS. You will also have to take courses in archival science. Alternatively, you can get a master's degree in history.
Archivists earned a bit less than librarians in 2015. Their median annual salary was $50,250 and median hourly wages were $24.16.
Learn More About Becoming an Archivist
Sources:
Bureau of Labor Statistics, U.S. Department of Labor, Occupational Outlook Handbook, on the Internet at http://www.bls.gov/ooh/ and
Employment and Training Administration, U.S. Department of Labor, O*NET Online, on the Internet at http://www.onetonline.org/ (visited June 14, 2016).
Explore more Careers By Field or Industry
Comparing Library Careers
 
Minimum Education
License
Median Salary
Librarian
Master's of Library Science Degree
Required by some states for public or school librarians
$56,880/yr. or $27.35/hr.
Library Technician
H.S. Diploma or Associate Degree; On-the-Job training
None
$32,310/yr. or $15.54/hr.
Library Assistant
Diploma
None
$24,480/yr. or $10.71/hr.
Archivist
Master's of Library Science Degree or Master's Degree in History
none
$50,250/yr. or $24.16/hr.