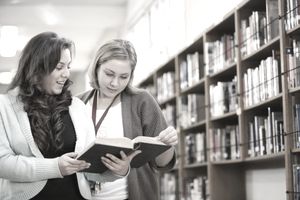 Job Description
Librarians select materials, organize those materials and help people use them effectively. Many work with the public, while others work behind the scenes in technical support and acquisitions or in administration. Although librarians traditionally worked with printed resources, they have kept up with ever-evolving technology and now work with electronic resources that include the Internet, computerized databases, and ebooks.
Librarians are also referred to as information professionals.
Employment Facts
Librarians held about 156,000 jobs in 2010. Most worked in school and academic libraries. Others worked in special libraries, business libraries, or in libraries of other organizations.
A Master's Degree in Library Science (MLS), generally from a program accredited by the American Library Association (ALA), is required for most librarian jobs in public, academic, or special libraries. Librarians employed by the Federal government must have an MLS. It usually takes one to two years to complete an MLS program. All MLS programs include computer-related coursework. A Ph.D. can help one get a teaching position at a college or university or a top administration position in a college or university library. Some librarians have an additional degree in the area in which they specialize.
Why Do You Need to Know About Educational Requirements?
Other Requirements
Most states require that librarians working in local libraries are certified. Certification for school librarians (also called school media specialists) vary by state. Some states require that school media specialists are certified teachers, while others require they have only an MLS.
Some require a master's degree in education with a specialization in library science. Many librarians take continuing education classes to keep up with changing technology. For more information about certification requirements, see the Licensed Occupations Tool from CareerOneStop. Learn about the requirements in the state in which you plan to work.
In addition to the hard skills one learns while training to be a librarian, he or she should have certain personal qualities, called soft skills, that will contribute to his or her success in this occupation. A librarian must be an active learner in order to adapt to the rapid changes in technology and the dissemination of information that are inherent to this field. He or she must have strong communication skills and the ability to work independently and as part of a team. A librarian must be good at problem solving and have strong reading comprehension skills.
Advancement Opportunities
With experience, librarians can advance to administrative positions, such as department head, library director or chief information officer. As mentioned earlier, earning a doctorate degree can contribute to one's upward movement in the library science field.
Why Do You Need to Know About Advancement?
Job Outlook
Employment of librarians is expected to grow more slowly than the average for all occupations through 2020. While there will be competition for jobs early on in the decade, this will change as older librarians retire.
Why Do You Need to Know About Job Outlook?
Earnings
Librarians earned a median annual salary of $55,300 and median hourly wages of $26.59 in 2011.
Use the Salary Wizard at Salary.com to find out how much librarians currently earn in your city.
A Day in a Librarian's Life
On a typical day a librarian might perform some of the following duties:
analyze users' needs and provide the information they require
show users how to efficiently search for information on the Internet and in other online resources
select and purchase materials and prepare those materials by classifying them according to subject matter
supervise assistants who prepare cards, computer records, or other access tools that direct users to resources
collect and organize books, pamphlets, manuscripts, and other materials in a specific field, such as rare books, genealogy, art or music
coordinate programs such as storytelling for children, and computer and literacy skills and book talks for adults
conduct classes
publicize services
write grants
Source:
Bureau of Labor Statistics, US Department of Labor, Occupational Outlook Handbook, 2012-13 Edition, Librarians.
Employment and Training Administration, U.S. Department of Labor, O*NET Online, Librarian