Letter or Email Example Asking to Work From Home
How to Request Working From Home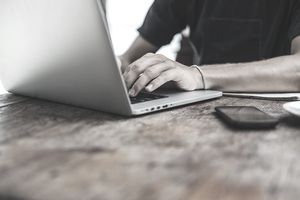 There are many reasons employees request to work from home: long commutes or scheduling issues can make it a better options. Sometimes, it's easier to get focused work done at home than in a busy or loud office environment. With video hangouts, office-wide chat programs, remote access to servers and other technology innovations, working from home is often very doable. 
Still, your manager or human resources department may be leery of allowing you to work from home, especially if it's not common in your company.
If you would like to work from home, you should make a written request to your supervisor either in a letter or email. This initial written request may need to be followed by a formal application, forms, and documentation as required by your employer.
Sample Requests to Work Remotely
Below, you'll find examples of email requests asking to work from home, tips on what to include in your letter, and strategies for how to make a persuasive argument for why you should be able to work remotely. 
Email Request to Work From Home - Example #1
This email example is ideal for someone who has already been working from home occasionally, and wants to make it a regular occurrence.  
Subject Line: Request to Work Remotely
Dear Emily,
As you know, I have been working some hours from home on an occasional basis. I have found that my productivity has increased, and I am able to focus well on my work activities without the distractions in the office.
Would it be possible for me to work from home regularly, meeting in the office on an as-needed basis? I have really enjoyed working with you and your team, and look forward to our continued collaboration.
Thank you for very much for your consideration,
Amy
Email Request to Work From Home - Example #2 
Review this example if you're looking to work from home, but haven't before.
Subject Line: Request to Work from Home  
Dear Sean, 
I'm excited about our plans for this year's revamped conference. As you know, pulling off this event will require a lot of planning and writing. We'll need to create an email plan to blast potential attendees, write event page copy, and then develop the agenda and presentations as well. 
Leading up to the event, I'd like to work from home two days a week. In previous roles, working from home increased my productivity. Wednesday and Friday would be ideal work from home days, since we don't have any team-wide meetings. Of course, I can be completely flexible and come into the office if we ever do need face-to-face time, and I'll be available by phone and email on work from home days, in case anything comes up. 
Eager to hear your thoughts on this plan. 
Best, 
Carrie
What Information to Include in Your Letter 
Be clear in your letter about what you are requesting. Do you want to work from home one day a week, every day, or simply occasionally? Set the parameters of how this would work from a scheduling perspective. 
It's also important to include a reason why you want to work at home. Ideally, you'll be able to frame this reason to show how working from home is beneficial to your manager and the company.
For instance, if you have a brutal rush-hour commute that you want to avoid, you might say in your letter, "The traffic on my commute is horrendous, and it's impossible for me to get to work before 9:30 AM. Often, I'm eager to get my day started before then. If I were able to work from home two days a week, I'd be able to be at my desk focused on projects and setting up meeting earlier in the day." 
If working from home is not common in your workplace, you may also want to include details about how you'll be reachable during work hours (phone, email, IM, etc.), and address potential concerns.  
Here are more tips for how to ask your manager if you can work from home. 
Common Concerns about Working From Home
Working from home can have information security concerns, especially regarding confidentiality and risk of data hacking or theft.
If you need to use programs and systems remotely, you may have to have your computer, laptop, or other devices inspected and load security access programs.You may also have to take responsibility for equipment from work you are issued to use at home.
Monitoring productivity is another concern many employers have when you work from home. How can they measure whether you are as productive as you would be in the office? Do you have statistics on your home productivity compared with your office productivity?
How can you ensure you are collaborating with your co-workers when you are working from home? How will you make yourself available to them for discussions and consultations? If you can address these concerns in your letter, you will have a stronger justification.
More Letter Samples
Letter samples including cover letters, interview thank you letters, follow-up letters, job acceptance and rejection letters, resignation letters, appreciation letters, and more great employment letter samples. 
Email Message Examples
Sample job search email messages including cover letters, thank you letters, resignation letters, and other sample formatted email messages. Also, review job search email etiquette.
Read More: Tips for Finding the Best Work From Home Jobs | Top 10 Jobs to Work Remotely