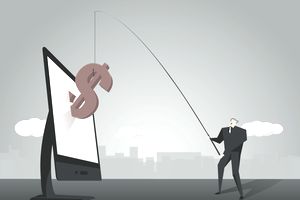 Starting your first online business can feel quite daunting, and there seem to be more questions than answers about where to start, what to do and how to do it.
What if you are just starting out and nobody knows who you are or that you even exist from the get-go?Fortunately, there's a way to overcome it, and it's not what you might think.
Chances are that you have gone through some programs already, promising you everything from slow riches to quick riches.
It's quite tempting to go for the quick fix, but usually quick fixes come with some unwanted baggage.
To illustrate, if you got offered $1000 to take right now, or $2000 if you waited a year. 
Which one would you take?
If you are like most people you would say the $1000, right?
But, what if you heard that by taking the $2000 you would learn how to make $2000 consistently every year?
It would be more tempting, right? Well, this is the difference between building a long-term and sustainable business and a get up in smoke business.
By investing the time to do it right and getting it right, it sets you up for long-term success. Just like the all known saying: "Teach a man to fish…"
Here are the 3 "teach a man how to fish" steps to set up your first successful online business are as follows:
1. Your Fishing Rod: Decide to Be Focused on One Thing
Focus is everything, scatter your focus and you scatter your results.
That's why top achievers are focused. 
Take a golf pro like Tiger Woods, how many strikes do you think he has hit over and over? There is power in focus.
That's why you want to pick one thing in your online business and focus on it. 
Which gets us to step 2 in the fishing story…
2. Your Fishing Bait: Commit to Your Focus
Your bait is no better than your commitment to what you are focusing on.
Be sure that you use superb bait on your hook. In other words, know that if you continue to stay focused and not give up, you will get the results you are looking for.
Decide to say NO to other baits (temptations). You know they are guaranteed to pop up in your email inbox from the Gurus.
Don't take their bait!
But wait… there's always the temptation to give up when you don't get the fish on the hook right away.
It's so easy to give into the nagging voice in your head saying: "This is just not working… time to try something else!"
No, don't do that! Instead, use a strong fishing line which does not break.
3. Your Strong Fishing Line: Launch It With Accountability
Did you know that you are more likely to follow something through when you are accountable to someone other than yourself? Not so sure about that?
Well, let's say that your boss gave you the following assignment at work:
To go to the nearest shopping mall and spend the day there, taking notes on how many people wear black jeans. (Let's say you were working for a statistical company, doing marketing research)
How likely would it be that the next day you completed the task your boss gave you and reported your findings?
Pretty likely, right?
 (If you weren't out to get fired, that is.)
Well, the cool thing is that you can make use of the same accountability when launching your own online business.
Thereby ensuring that you will follow through and not give up.
That's your strong fishing line, but how does that work?
You find someone to be accountable for, like when you go through a new program on how to make money online or how to do X or get Y result. Make a case study out of it and invite people to follow you on your journey.
It's harder to give up when you have people following you and waiting for the next case study result to be sent to them.
You are accountable to them, and it gets to be a win-win situation.
How?
As they follow you and are excited about what your results will be. They will see you as someone that's worth following, someone that's providing value.
Guess who they will be more likely to buy from later
You!
Editor's Note: Ole Didriksen is a founder of Affiliate Top Dog.  He focuses on giving strategic and simple tips on how to start and run successful online businesses at: http://www.AffiliateTopDog.com