Learn About Being a Legal Transcriptionist
Legal Transcriptionist Career Profile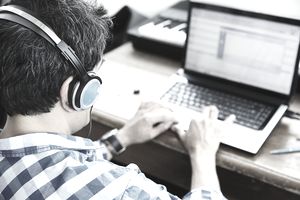 Legal transcriptionists listen to dictated recordings made by attorneys, paralegals, and other legal professionals and transcribe them into legal documents. They generally listen to recordings on a headset, using a foot pedal to pause the recording when necessary, and key the text into a computer. The documents they produce include correspondence, pleadings, motions, discovery, legal memoranda, agreements, and time entries.
Job Duties
Unlike a court reporter, who employs a special shorthand and uses stenography equipment to transcribe the spoken word, transcriptionists use a computer keyboard to transcribe dictated recordings. In addition to typing, legal transcriptionists must continually edit the information they transcribe for clarity and ensure that the transcribed copy is free of spelling, punctuation, grammar, and typographical errors.
Legal transcriptionists may also perform administrative duties such as proofreading, organizing and filing legal documents, and tracking deadlines.
Training and Education
No formal degree programs in legal transcription exist and a high school diploma and experience in an office or legal setting are often the only requirements for an entry-level position. Legal transcriptionists often receive on-the-job training by an attorney, paralegal, or office manager.
To expand your employment options, you might complete one of the many legal transcription training programs offered by community colleges and vocational schools throughout the United States.
You can earn a certificate in legal transcription in as little as one year's full-time study or earn an associate's degree in legal transcription technology in two years. You might also pursue a 2-year legal assistant or legal office administration degree or a certificate or degree program in court reporting.
Some of the core courses found in a legal transcriptionist training program include word processing and typing, court reporting theory, English and editing for transcription, computer-aided transcription, legal dictionary building and basic dictionary building, according to Education-Portal.com.
Skills
Legal transcriptionists must have a knack for punctuating the spoken word and extremely good listening skills, as well as the ability to comprehend the content of the dictated material they are transcribing. Other key skills include:
Proficiency with transcription software
Fast (85+ words per minute) and accurate keyboarding skills
Solid understanding of legal terminology
Excellent command of the English language
Strong proofreading skills
Proficiency with popular word processing, spreadsheet, and billing software applications
Work Environment
Many transcriptionists are independent contractors who work from home and offer their services to attorneys and legal employers. Other legal transcriptionists work as legal secretaries, legal assistants or clerks in law offices, corporations, banks, insurance companies, public interest venues, and the government.​
Legal transcriptionists often sit in the same position for long periods.
They can suffer wrist, back, neck, or eye problems caused by strain and risk repetitive motion injuries such as carpal tunnel syndrome.
Legal transcriptionists are sometimes required to work at a prescribed productivity pace (for example, transcribe 1,015 lines or more per day or 145 lines/hour while maintaining 98% accuracy). This faced-paced environment and the constant pressure to be accurate and productive can be stressful.
Legal transcriptionists who work at home are more likely to work irregular hours including part time, evenings, and weekends - but have the flexibility of scheduling their own hours to fit their lifestyles and work around career and family demands.
Salaries
As the number of attorneys, paralegals, and other legal professionals continues to grow, the demand for qualified legal transcriptionists will also increase.
Exploding court dockets will also fuel the growth of court transcriptionists.
Although the Bureau of Labor Statistics (BLS) does not track salary information for legal transcriptionists (salary information for related fields such as medical transcriptionist, legal secretary, court reporter and legal assistant might be instructive), most legal transcriptionists earn between $20,000 and $60,000 per year. Those who work as independent contractors or as legal secretaries or legal assistants at large law firms tend to earn income at the higher end of that salary range.