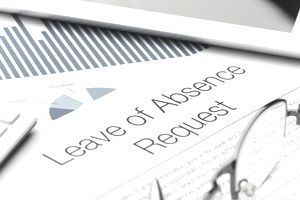 Life is complicated and many jobs these days are more than full-time commitments. For these reasons, it's not unusual to find yourself needing to take a leave of absence at some point during your career.
The reasons for taking a leave are many: you might want to take a sabbatical so that you can travel or dedicate yourself to learning a new skill, or you might need to care for a family member or a new child.
Whatever your reasons for taking the leave, it's important to put your request in the right way. A well-worded and properly formatted letter will increase your odds of getting your leave request approved. It will also go a long way toward making sure that your working relationship with your boss and your employer stays strong during your time away.
See below for tips on writing a letter requesting a leave of absence, and read a sample leave of absence letter.
Before You Write the Letter
Think carefully before requesting a leave of absence. Before putting in your request, make sure you know how you'll afford day-to-day expenses while you're not being paid, as well as what will happen with any health insurance benefits or other perks. Will you retain your status as an employee, in terms of vesting in stock options or pension benefits? Do you have enough money in savings not only to cover your expenses, but also to cover unexpected emergencies such as a broken car or home appliance?
Don't request leave until you have considered these things.
Consider alternatives. Could you temporarily reduce your hours rather than taking a leave? Could you temporarily work from home? If you need to care for a sick family member, working from home might be an ideal option. Think through alternative solutions before requesting time off.
Figure out if you're covered under FMLA. The Family and Medical Leave Act, enacted in 1993, offers eligible employees 12 weeks of unpaid leave during a 12-month period. Generally, it applies to people who work for companies with more than 50 employees and need time off to care for a new baby, adopted child, spouse, or parent, or to deal with needs arising from a spouse, child, or parent serving in the military (active duty only). If you qualify, request leave under FMLA.
Keep in mind that FMLA requires you to provide 30-day advance notice, in writing, if your need for a leave is foreseeable (such as the anticipated birth of a child). In an emergency situation, such as a sudden hospitalization, this 30-day requirement is waived.
Know your employer's leave policies: Most companies and firms have their own policies regarding the conditions under which they allow personal leave, how they assess eligibility for leave, and how much time they are willing to grant. An employee manual should explain these policies. Make an appointment with your HR department to discuss their official requirements for leave. A few good questions to ask your HR representative:
Will I be able to return to my current position at my same rank and pay scale?
What is the maximum length of time I will be allowed to remain on leave?
What is the procedure I should follow should I find I need additional leave time?
Will I be invested in the company's health plan during my leave?
Reconfirm the answers to these questions with your manager, in writing, when your request is approved. This will ensure that there is no confusion about the terms of your leave.
Give as much notice as possible. This is more than good manners; it's a practical necessity. If your leave is approved, your manager and HR representative will need to move a lot of pieces to make sure everything is processed appropriately and to arrange coverage during your absence. Give them enough time to do this.
Tips for Writing a Leave of Absence Request Letter
Know who to send it to. Send your request to your manager, but also send a copy of the letter to human resources.
If possible, discuss your request for leave with both your boss and a human resources representative before sending the official letter.
Provide dates. In your letter, state the date when you would need to begin your leave. If possible, also include the date when your leave would end.
Offer any assistance possible. If you can, offer assistance in whatever way possible. Perhaps you can train a coworker to take over one or two of your tasks before taking leave. Perhaps you can offer to be available via email during your leave. However, only offer what you know you will have time to do.
Keep it short. Do not go into extreme detail about the reasons for your leave. You can simply say you need to take a leave of absence for "personal reasons," or to help a sick family member, etc. Keep the letter short and to the point.
Use business letter format. This is a professional business letter, so use business letter format. Also be sure to thoroughly proofread the letter before sending it.
Letter Example Requesting a Leave of Absence From a Job
This leave of absence example letter provides a written request for a leave of absence from work for personal reasons. The letter offers to answer questions while the employee is on leave and provides a return date for returning to work.
Your Name
Your Address
Your City, State, Zip Code
Your Phone Number
Date
Name
Title
Organization
Address
City, State, Zip Code
Dear Mr./Ms. Last Name:
I would like to request a thirty-day leave of absence for personal reasons. If possible, I would like to leave work on July 1 and return on August 1.
If approved, I will be traveling during this time period, but I would be glad to assist with any questions via email or phone.
Thank you very much for your consideration.
Sincerely,
Your Signature (hard copy letter)
Your Typed Name
Read More: How to Ask for a Leave of Absence | Tips for Asking for Time Off Work