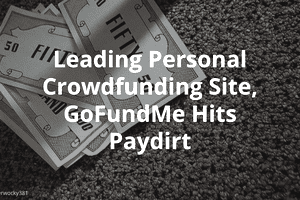 Crowdfunding comes in many flavors...
You've got rewards crowdfunding -- the kind of crowdfunding where people back projects in return for rewards and popularized by sites like Kickstarter and Indiegogo.
You've got equity crowdfunding -- where people actually invest their money into private companies online.
You've got marketplace lending (also called peer to peer lending) -- where people lend small increments of money out to borrows and make a return on their loans.
LendingClub is the largest player in this space (and recently floated its shares on to the stock market).
Lastly, you've got donation crowdfunding -- which, like it sounds, is based on people raising money for personal reasons and convincing backers that their causes are a worthwhile reason on which to spend their money.
The largest player in the personal crowdfunding / donation crowdfunding space is GoFundMe (read my in-depth review of GoFundMe) and the company itself just got funded. Big time.
GoFundMe's big payday
The company focuses on running campaigns for individuals looking to raise money for a personal cause. It may be to raise tuition to send a kid to college or to pay hospital costs.
Over time, Kickstarter and Indiegogo -- two leaders in the rewards crowdfunding space -- drifted away from these types of personal campaigns in favor of cool tech projects or novel video games. This left a big opportunity for a player like GoFundMe to really expand in the personal fundraising space.
And expand they did -- the company is reportedly raising $100 million every month for fundraising campaigns on its platform.
This success hasn't escaped the notice of large investors, either. It's been rumored for some time that GoFundMe was raising money to fund its own growth at a very lofty valuation -- sources said that the company was worth upwards of half a billion dollars ($500 million).
But today, the Wall Street Jounral published a shocker: that the crowdfunding site's founders Brad Damphousse and Andy Ballester have decided to sell a controlling stake to the investor group that is leading its latest financing round. On top of that, TechCrunch just last week said that the value of the company had probably risen to over $600 million dollars.
The future for GoFundMe and crowdfunding
The way this deal is being structured means that the founders, two young and fun guys (both in their early 30s), will be replaced with a team handpicked by the new investors. (It also means these two founders of GoFundMe are probably fabulously wealthy by now.)
Following the deal, the founders will step down from the day-to-day oversight of the company but retain board seats, Damphousse said.

In their place, former Yahoo and Groupon executive Rob Solomon is heading a new leadership team at GoFundMe and plans to establish an office in Silicon Valley. Solomon, who was chief operating officer at Groupon for its fastest period of growth, will leave his current role as venture partner at Accel to become GoFundMe's chief executive when the deal closes. (Source: Wall Street Journal)
In a lot of ways, this is the maturing of the crowdfunding industry.
What was started by young men and women with a view of democratizing the ways individuals and small businesses raise money is being taken over by corporate suits. That's not necessarily a bad thing but it does point to the fact that these crowdfunding platforms are real businesses (it was estimated that GoFundMe had made about $60 million in revenue since it launched).
In an interview, Solomon said the service has an opportunity to make donations and charity fundraising more efficient by tapping into more social networking and mobile applications.

"I think we can become the giving layer of the Internet," Solomon said. "In North America alone, nonprofits are a $300 billion-a-year industry. There's a lot of fat in there. If we do our jobs well, we can remove friction as it relates to giving."