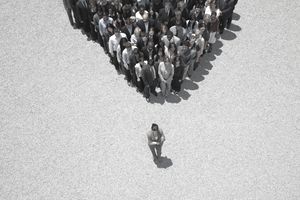 Congratulations on your promotion! You've earned your boss's vote of confidence. The bump in salary along with the new title, larger team and broader set of responsibilities are testaments to the confidence she has in you.
During the past few years, you've successfully navigated from front-line supervisor to manager and it's exciting to be viewed as a senior manager. You're certain your tenure in this role will be filled with successes as you continue on your journey to executive management.
Now it's time to get to work on this next phase of your career.
Fair warning! Your prior successes brought you here, however, you need a new set of skills to survive and ultimately succeed at this new level. Recognition of and respect for a new set of challenges is essential for survival and success. 
Heed these 4 survival tips or you're likely to find this next phase of your journey a bumpy ride.
4 Big Survival Tips to Help You Lead at a Higher Level
1. Recognize and focus on your new priorities. Front-line leadership roles emphasize operations and processes and constant immersion in the activities of your team. Decisions tend to be programmed by policies and talent recruiting and development activities are straight-forward. However, all of this changes when you crossover to a role that spans front-lines and senior management.
Your new priorities include: 
Linking corporate strategy and key goals to your team's activities and performance measures. You're now a critical linchpin between your organization's strategic plans and the execution of those plans and you're accountable for connecting your teams to those activities.
Cultivating a broader environment where accountability is clear and creativity and innovation flourish. In the past, you may have accomplished this with a smaller team of direct reports, but now you're working with and through other managers to achieve these results with their teams. It's a very different game at this level.
Looking at talent and structure from a different perspective. You're on the hook for fine-tuning structure and processes to best support strategy execution, results measurement, and learning. And the topic of talent goes beyond finding people best suited for specific operational tasks. You're responsible for finding and developing the firm's future leaders and star contributors. Part of this responsibility includes determining who does not fit in the organization's future.
2. Strive to cultivate relationships with your new peers. When you operate at a higher level, you're increasingly dependent upon individuals from other groups to support your initiatives and provide resources for your key projects. During your first few weeks on the job, meet one-on-one with all of your peers and look for opportunities to collaborate. Instead of asking for help right away, ask for input and ask how you and your team might help support their work. While you may be accustomed to operating mostly on your own island, it's time to build bridges or you risk being isolated.
3. Make your boss's priorities your priorities. It always pays to help the boss achieve her goals, however, it's even more critical from your newly elevated role.
You have a broader reach and a larger body of resources to help achieve organizational and functional goals. Put those resources to work to support your biggest advocate. When the boss is successful, you will be successful. It sounds political, and perhaps it is, but it's right.
4. Recognize that decisions are more complex and answers less certain. It's challenging to move from a role where policies guide most of your decisions to a position, where right or wrong comes in shades of gray. Your technical expertise likely served you well for past decisions. Now, your focus must be on working with and through others to make decisions where outcomes are uncertain. Cultivating your ability to navigate these issues is part of your training for senior management.
The Bottom-Line for Now
A promotion to a new level with added responsibilities and accountabilities is a testament to your past achievements.
Your boss believes you can do more and likely, so do you. However, take the time to think deeply about your new role and what it takes to succeed at this level. Recognize the need to expand your field-of-view and to focus on new priorities. And then attack the role with the same level of energy and enthusiasm that has always worked for you. Energy and enthusiasm never go out of style!