Best Links: Leadership Crisis, Major Donors, FB Reaction Buttons
The Month's Hot Nonprofit News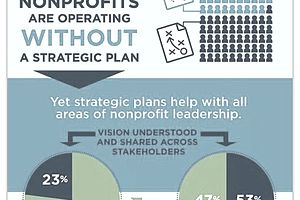 Must-Read Research
Are Nonprofit Leaders Really Leading?
The 2016 Nonprofit Sector Leadership Report, published by Concord Leadership Group, to my ears, echoes the cycle of dysfunction in fundraising called out a few years ago by CompassPoint's study, UnderDeveloped: A National Study of Challenges Facing Nonprofit Fundraising. The new report certainly points out that we still have a lot to worry about in the sector.
In the Leadership Report, the researchers call out the lack of strategic plans, no succession planning, and no unifying vision. The most shocking though was the persistence of an attitude toward employees that fulfills the worst myths about working in nonprofit. Leaders are out of touch with the modern expectations of a modern workforce.
I liked the article about this study in The Chronicle of Philanthropy (subscription required): Many Nonprofits Lack Necessities of Sound Leadership, Report Says; and the blog post at Concord Leadership Group:  Data in new study pinpoints major problems for nonprofit leaders. 
The Good, the Bad, and the Puzzling.
An analysis of 990s by the Urban Institute's National Center for Charitable Statistics found that the nonprofit sector enjoyed an uptick in gross receipts for 2013 and 2014. However, that was true only for 37 percent of public charities. 28 percent experienced a loss.
Also, the analysis revealed that environment and animal charities and international and foreign affairs charities were both winners and losers, a pattern the Institute called "revenue volatility."
See this article in the Nonprofit Quarterly: Which Nonprofit Sectors Were the Biggest Winners and Losers in 2014?
CSR, Pure Altruism or Guilty Conscience?
Just why did that company choose to donate to your cause, or sponsor your event? Is it good intentions or something more nefarious?
The Atlantic explores a study from the Journal of Marketing about the motivations behind CSR. The study proposes four types of motivation. Can you guess what they are and which predominates? Read it here: What Motivates Companies to Do Good—Altruism, or Guilt?
Fundraising Tips and More
How to Raise More Money with A/B Tests, The Future of Fundraising. We all know we should be testing, but sometimes we do not know how or don't want to take the time. Here is an explanation of why fundraisers should test and just how easily it can be done.
Three Steps to Securing Bigger Gifts, Veritus Group. Getting bigger gifts from your donor file is really about you, says this post. It is because you do not believe. Here's how to change that attitude and go for more without fear.
7 free tools for anyone who wants to become a better writer, Mashable. This article was not meant for fundraisers, but it certainly fits. Don't we all want to write better? If not, we should. I was familiar with some of these tools, but there are some delightful surprises too.
The 15 Emails You NEED to Be Sending to Your Email List, SumoMe. Ok, this comes from the commercial world, but all of these emails work for nonprofits too. Consider the welcome email, the expectation email, and the helping email.
5 Ways to Create an Email Newsletter that Pops on Mobile, John Haydon. While you are thinking about email, consider how your newsletter looks on mobile. Here's what you should do. I love the Trump example!
Facebook Reaction Buttons: What Nonprofit Marketers Will Love. John Haydon (ok, I am a fan). Not sure what to do with those new buttons on FB? John, always the opportunist (in a good way) shows how to turn them into marketing gold.
How to Host a Donor Thought Circle, Network for Good. This is the loveliest idea for cultivating your donors. Fun but low-key, fosters engagement.
What more could you ask?
12 Ways to Take Your Nonprofit Blog from Mind-Numbing to Mesmerizing, Clairification. If your blog is even boring to you, here's the answer. In fact, there are 12 of them. My fav is about giving your readers something. No, not trinkets, but other useful content like a recipe, a fun quiz or an entertaining video.
Bargain of the Month
If you've been longing to hear Tom Ahern, here's your chance. Moreover, it's free! Ahern will be talking about nonprofit communications at a webinar by NPQ and Network for Good. The day is March 24th, 1-2 p.m. EST. Here's where you can register