Late Filing Penalties for W-2 Forms and 1099-MISC Forms
How to Apply for an Extension of Time to File W-2s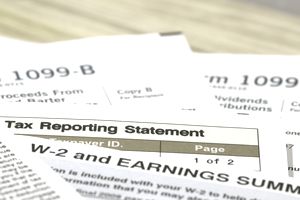 Late Filing Penalties for W-2 Forms and 1099-MISC Forms
The bottom line: If you must file late, file as soon as possible, to avoid additional fines and penalties. 
UPDATE: New Earlier Filing Date for W-2 and 1099-MISC Forms
The IRS has announced that the filing deadline for W-2s and 1099 forms, including  W-2 forms, 1099-MISC forms, and the transmittal forms W-3 and 1096, is January 31 of the following year.
  That's a month earlier than the former filing date, and it applies to both mailed-in forms and e-filed forms.The new earlier date is in effect for tax years beginning with the 2016 tax year, in order to help prevent tax fraud.  
The deadline for giving W-2's to employees hasn't changed; it's still January 31 of the following year. 
New Requirements for Filing an Extension Application for W-2s
In addition to changes in the filing deadlines, the IRS has changed the regulations for applying for an extension for filing W-2 forms. The extension application is not guaranteed, and you must provide a detailed explanation for the extension request. Requests must be submitted on IRS Form 8809 by the January 31 deadline. The extension is for 30 days. 
Due Dates for W-2 Forms and 1099-MISC Forms 
The forms and who must receive them, by January 31 of the year following the tax year
W-2s must be given to employees and filed with the Social Security Administration. 
1099-MISC forms must be given to non-employees and filed with the IRS. 
 Form 1099-MISC must be provided to the non-employee and submitted to the IRS for everyone to whom you paid at least $600 or more during the tax year. Here is the list of individuals who must receive Form 1099-MISC.
Penalties for Late Filing of W-2s and 1099-MISC Forms
The IRS imposes penalties for failure to furnish W-2 statements to employees.
If you file W-2s online, you don't need to include W-3 forms, but if you file W-2's by mail you may pay a penalty for failure to file W-3 statements, along with copies of employee W-2's.
Penalties may also be imposed for statements that are incomplete or inaccurate. If you can show "reasonable cause" for your failure, you may avoid the penalties, but don't count on the SSA or IRS accepting your "reasonable cause" excuse. If your failure is willful or it can be proved that you intentionally disregarded the law, the penalties are higher. Here are the details:
The penalty for a failure to furnish a W-2 is $50 per statement, no matter when the correct statement is furnished.
You may be liable for penalties if you fail to file Form W-3 with the SSA (along with W-2s for all employees) by the end of February for the preceding year. In addition, you may be penalized if the forms are incorrect, with errors or omissions. You can avoid penalties if you:
File in a timely manner, by the due date
Include all required information on the form
Make sure the information is correct
Make sure you file on the correct form (not a photocopied form for the W-3)
File electronically, if you are required to do so (that is ​if you have 250 or more W-2 forms to submit
Carefully check the forms for completeness and accuracy. In particular, make sure you have correct TINs for employees, correctly spelled surnames, and that any money amounts are correct.
Penalties for Small Businesses
Penalties are smaller for "small businesses" (those with $5 million or less in average annual gross receipts for the three most recent tax years).
The amount of penalty is based on when you file. The lowest amount is $15 for returns correctly filed within 30 days of the due date.
Using a payroll service provider does not relieve you of the responsibility to ensure that the W-2 forms are filed correctly and on time. If your failure to file is intentional, the penalty is at least $100 for each form, with no maximum.
Penalties for Late Filing of 1099-MISC Forms
If you fail to file a 1099-MISC form by the due date, you may be subject to a penalty, based on the lateness: If you correctly file within 30 days, the penalty is $30; $60 per return if you file more than 30 days late but by August 1, and $100 per return if you file after August 1 or you don't file at all. Returns must be complete and correct to avoid penalties.
If you fail to provide 1099-MISC statements to payees on time, you may also incur a separate penalty. The amount is based on when you furnish the correct statement.
Back to Filing Year End Wage and Tax Reports