KWIPPED: Online Rental Equipment Platform
KWIPPED will transform the way contractors rent equipment.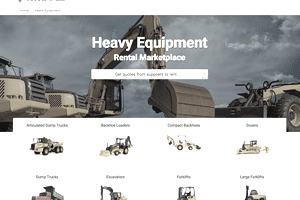 When contractors need to rent equipment they are often challenged with a cumbersome, inefficient sourcing process involving multiple vendors, inconsistent, unpredictable pricing and varying degrees of service and reliability. A new startup company, KWIPPED, is poised to overcome these challenges and transform the way contractors rent equipment.
The Uber of Equipment Rental
Online marketplaces like Uber and Airbnb have proven that using technology and automation to aggregate demand and match it with supply is an extremely successful business model.
However, both companies (and most popular online marketplaces) are consumer based. The founders of KWIPPED are introducing the efficiency of the online marketplace model to the construction/heavy equipment industry (along with 16 other industry verticals).
What Can KWIPPED Do For a Contractor
The innovative KWIPPED.com platform manages every aspect of the equipment rental process and offers a host of benefits to contractors:
Time savings from increased sourcing efficiency – KWIPPED enables streamlined sourcing on a single website. With a few clicks, contractors can search for equipment by name or application and submit a single quote request for the equipment they need to rent. Rental requests are automatically distributed to members of KWIPPED's global supplier network that meet the rental criteria. Within hours, requester receive multiple quotes from multiple suppliers for a convenient side-by-side comparison and easy, informed decision-making.
Money savings – Marketplace competition drives rental costs down and ensures fair pricing. Also, contractors frequently push equipment rental sourcing down the supply chain to subcontractors and pay a mark up to those subs. KWIPPED automation makes sourcing and renting equipment so easy and quick, contractors can avoid paying the subcontractor markup by managing the equipment rentals in house.
Improved resource allocation – Automated sourcing and rental logistics reduces manual engagement and frees up resources and man-hours, which can be reallocated towards core business functions. Proprietary RFQ technology manages issues like scheduling, insurance, security deposits, accessories, shipping, rental contracts and replacement costs. 
Reliability and peace of mind – KWIPPED staff pre-qualifies every supplier and tracks and monitors each rental to ensure that quality equipment arrives on site and on time.
Added revenue streams – Because KWIPPED is an online marketplace, contractors and builders can register to become KWIPPED suppliers and rent idle equipment to other renters. Instead of having idle equipment sitting on the lot deteriorating and depreciating, it can be put into circulation and generate extra revenue.
What's Next for KWIPPED
Future enhancements to the site include a RENT NOW feature that allows contractors to bypass the quoting process and rent directly from specific supplier inventory being showcased on the site. Also, a bi-directional rating system designed to ensure that only high quality renters and suppliers remain in the marketplace.
KWIPPED Uniqueness 
Some websites serve as directories where contractors go to find supplier contact information; but these sites have limited functionality to support rental transactions.
KWIPPED is an open marketplace where renters connect directly with suppliers that can meet their needs. The KWIPPED messaging system enables direct collaboration between renters and suppliers to ensure rental details are communicated clearly. KWIPPED's transparency encourages contractors to build mutually beneficial, long-term relationships with suppliers that have previously satisfied their requirements. KWIPPED also empowers any legitimate business with equipment to become a rental supplier – even if equipment rental is not their core business.
While KWIPPED places heavy emphasis on the construction/heavy equipment market, it's important to note that another key differentiator is that the KWIPPED rental platform is flexible enough to handle rentals for any industry vertical – and it currently offers more than 500 equipment categories across 17 industry verticals including: medical and lab, audio and visual, HVAC, electronic testing, welding, surveying, film production and many more.
Disclaimer:
This article was written by Robert Preville. Robert is the co-founder and CEO of KWIPPED. Prior to launching KWIPPED, Preville founded and sold GlobalTestSupply.com, a world-class provider of test and measurement equipment that ranked #800 on the INC 5000 fastest growing companies list. Prior to that, he was the founding employee and Vice President of Sales for MFG.com, the leading online manufacturing marketplace and a portfolio company of Jeff Bezos's Bezos Expeditions. Preville is also the current co-owner of the Greater Wilmington Business Journal.