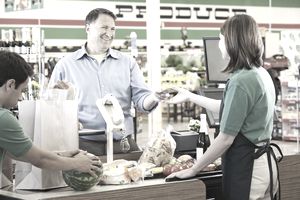 If you're a loyal Kroger customer, you can earn extra rewards by buying the store brand.
Who the Kroger 1-2-3 Rewards MasterCard Is For
Loyal Kroger shoppers who want to earn rewards on their grocery purchases.
Credit Rating Required
About the Kroger 1-2-3 Rewards MasterCard
Pros
Easy and fast rewards redemptions.
Cons
Relatively weak rewards
No rebates or rewards redemptions at Kroger gas stations
Rewards
3 points per dollar on purchases of Kroger own-brand products
2 points per dollar on other purchases at Kroger stores
1 point per dollar on purchases outside Kroger stores
APRs
13.99 to 23.99% on purchases, depending on your credit history.
5.99% on balance transfers for the first nine months, then the purchase rate.
Fees
No annual fee.
Balance transfer fee: 4% of balance.
Late payment fee: Up to $35.
Return check or payment fee: Up to $35.
Kroger 1-2-3 Rewards MasterCard Review
If you do a lot of your grocery shopping at Kroger stores, one of the biggest supermarket chains in the U.S., you can earn points toward free groceries with the Kroger 1-2-3 Rewards MasterCard. You earn extra points, and save more money, if you use the card to buy Kroger's own brand of products.
You earn one point per dollar spent on the card outside Kroger supermarkets, two points per dollar spent at Kroger stores, and an additional point when you buy Kroger-branded products.
You get a $5 reward certificate redeemable for purchases at Kroger stores when you accumulate 1,000 points.
That equals a 1.5% cash-back rate on Kroger-branded products, 1% on other Kroger purchases, and 0.5% all other purchases. Not great, but not bad either, especially if you use the card heavily at Kroger.
Kroger owns several supermarket, jewelry, and convenience store chains, so it's relatively easy to earn rewards and redeem them. Its supermarket chains include Fred Meyer, Ralphs, King Soopers, and Pay Less. Its jewelry stores include Fred Meyer, Littman, and Barclay. Its convenience stores include Turkey Hill, Quik Stop, and Tom Thumb. You can earn rewards, and redeem them, at most of these stores.
However, you don't earn points if you use the card to gas up at Kroger-run gas stations, nor can you redeem your rewards there. Kroger also says it "reserves the right" to allow points to be earned by buying store-branded merchandise at Kroger fuel centers. So, whether you're buying a gallon of gas or a bag of potato chips, you won't earn rewards.
Recommendation
The combination of rather weak rewards, and the restrictions on which products actually earn rewards, makes it hard to give this card a strong endorsement. You're better off getting a rewards card with a straightforward, and more generous, rewards package, such as the Bank of America Cash Rewards Visa Card.
Many credit cards allow you to earn bonus rewards on your grocery purchases, either periodically or all the time. Among the most generous are the Blue Cash Preferred Card from American Express, where you can earn 6% on your grocery purchases (although there is a $75 annual fee) or the no-fee Blue Cash Everyday Card, where you can earn 3% back on groceries.