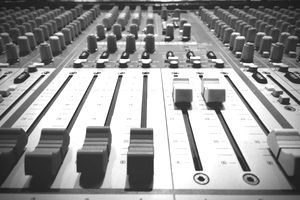 Kramer - The Basics:
Who: Musician, producer and label owner Mark Kramer (aka Kramer)
Significant Achievements: Founding Shimmy Disc, producing musicians such as Low, Galaxie 500, Daniel Johnston and many more
Years Active in the Industry: 1980s - present
Kramer's Music Roots - Early 80s New York:
Kramer's career began playing with numerous bands in the early 80s New York scene, including Shockabilly and The Chadbournes, where he first worked with experimental avant jazz saxophonist John Zorn.
He formed Bongwater in 1986, with performance artist Ann Magnuson and over the next 6 years, released a string highly acclaimed albums. In 1985, Kramer was recruited into experimental rock band Butthole Surfers as a bass player, touring across the States and Europe.
Noise New York/Shimmy Disc:
When he returned to New York, Kramer set up the Noise New York studio, and over the next 7 years recorded a succession of alternative acts, including experimental punks Half Japanese, Daniel Johnston , Jon Spencer and thrash metal group GWAR. In 1987 he began working with Dean Wareham's influential 'shoegazing' band Galaxie 500 , whom he worked with throughout their career, both in the studio and on the road. In the same year, he started Shimmy Disc records, that would go on to release much of his music, as well as bringing to the public's attention acts such as Daniel Johnston and Ween.
Penn and Teller Link:
Jad Fair, one-half of Half Japanese, has frequently collaborated with Kramer and is also responsible for introducing him to the magicians Penn and Teller, with whom he has had a lasting relationship.
In 1987, he was a sound consultant for their Broadway Shows, and he formed a band, The Captain Howdy, with Penn Jillette, who also appears on several Shimmy Disc recordings, perhaps most notably Jad Fair and Kramer's 1998 Roll Out The Barrel album.
Noise New Jersey:
In 1992, Kramer's base shifted across the Hudson River when he sold his New York studio and set up Noise New Jersey.
Here he continued his production work, working with the likes of Will Oldham's Palace Songs and 'slowcore' pioneers Low. Kramer is credited with discovering Low and was instrumental in shaping their early sound. It was during this period that he also enjoyed his most mainstream success, producing Urge Overkill's Girl You'll be a Woman Soon, the surprise hit from the soundtrack to Quentin Tarantino's film Pulp Fiction.
Noise Miami:
In 1998 Kramer sold his studio, and label, to Knitmedia, the company behind the influential New York venue The Knitting Factory and after a final tour of Europe in 1999 took a sabbatical from the music industry. Thanks to his pioneering production work with Low and Galaxie 500, and a resurgence of the 'shoegazing' movement, he has constantly been a sought-after producer and in 2005 set up a new studio, Noise Miami, in Miami, Florida. Since then he has worked with Jeff Lewis, Dot Allison, R Stevie Moore and many others.
Shimmy Disc Lives - Second Shimmy:
He also resurrected his record label, now called Second Shimmy, and the first release was "I Killed The Monster," a compilation celebrating the work of iconic outsider artist and songwriter Daniel Johnston. Subsequently, he has also released new albums by Jessie and Layla, Little Aida and Rope Inc.
Alongside running his studio and label Kramer also been working on his material, recording, amongst other things, several albums for John Zorn's Tzadik Label including a compilation of songs all associated with the famous hit factory The Brill Building in NYC.