Kombucha Now Appeals To Coffee Lovers
Turns Out Kombucha and Coffee Go Hand In Hand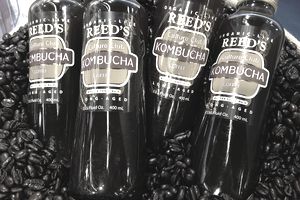 Kombucha beverages dominated at the 2015 Natural Products Expo West, some on tap, some in bottles.
The Los Angeles Times reports that kombucha sales are at around half a billion dollars, and the bottled tea-alternative category is around $5 billion. 
What really stood out to this die-hard coffee fan at a recent show was Reed's Coffee Kombucha, a beverage the publicly traded company launched at the 2014 Expo East trade show.
The company's approach to making coffee kombucha was that instead of growing the kombucha culture in Oolong and Yerba Mate tea, this beverage is "grown" in brewed organic coffee.
This was no "let's throw it on the wall and see what sticks" strategy. Chris Reed, founder and CEO of Reed's, Inc. noted that 83 percent of American adults drink coffee every day(1). Of course it made sense to take people's love of organic coffee and marry it with the company's kombucha.
Coffee Kombucha Trend
Reed is not alone in their pursuit. Revive Kombucha makes a wide range of kombucha flavors, including an organic coffee kombucha. Based in Sonoma California, the Revivalists chose to partner with nearby Blue Bottle Coffee for the ultimate fermentation of craft beverage bliss (that being coffee and tea in a good-for-you beverage).
The kombucha market, dominated by "old timer" GT's Synergy Drinks, appears saturated yet shows no signs of slowing as consumers learn to like / love / accept the many flavors of this healthful fizzy beverage.
Top Kombucha and Probiotic Beverage Brands
For producers, kombucha can be a profitable business given the high price each bottle commands (compared to most fizzy beverages.) It's no wonder kombucha startups are popping up, gold-rush style, along with an official, international Kombucha Brewers Association to support the industry.
Some of the larger kombucha companies include the following, which all have interesting lines that can span into functional vinegar-based probiotic tonics as well: 
Revive Kombucha
GT's Synergy Drinks
Kevita
Live Soda
Health-Ade
The association site lists many more producers, which happens to also be an excellent gallery of brands with that craft / small-batch look.
The Future of Coffee Kombucha? 
Coffee kombucha may be tasty, but coffee roasters and brands are more likely to see bigger bucks in the cold brew coffee trend which has its roots in familiar iced coffee.
Coffee kombucha naturally has more appeal to the kombucha drinker who also happens to love coffee. Or is a gateway to kombucha, which makes it a great addition to tea-based kombucha maker product lines.
(1) Food Manufacturing "Consumer Trends: 83 Percent of Americans Drink Coffee." 4/08/13