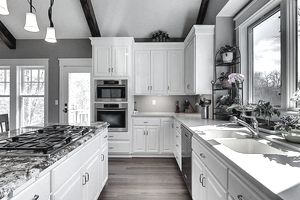 Kitchen Remodeling Common Mistakes
Want to make an upgrade to your home? Normally, the kitchen area is one of the most important ones when remodeling and it is critical to maintaining a nice looking kitchen. Avoid these common mistakes and you will get a better project.
Kitchen Remodeling Layout
Having a kitchen layout is critical to being successful during the remodeling process. Use a kitchen remodeling software to square things away such as cabinets, appliances and walkway widths and elevations.
Make sure that your customer has approved the layout and that you have presented a very nice rendering of the finished project. Make sure to have your working triangle clearly defined: stove, sink, and refrigerator. This three areas are the most active one in the kitchen and should be within range at all times.
Make Some Room 
Once you believe there is enough room in the cabinet or a pantry has been designed, think again. Your layout might need some extra room and space to store pots, pans, and all kitchen utensils.  There are many  cabinet accessories , like drawers that can be installed and will save room in your kitchen cabinet. Plan your storage and where will you locate those areas. For maximum efficiency, your storage area will be near your working stations. 
Lights Out
Where do lights need to be located for proper illumination on a kitchen remodeling project? As a rule of thumb, for your cost lighting will be about 10% of your total cost, so plan for proper but functional illumination.
This is one of the major complaints from customers as shadows can affect the illumination on working surfaces. Having proper lighting, but please do not add the lights to the same circuit as the small appliances circuit, will make your kitchen safer and brighter. Pay special attention and make sure you are using the right amount of lumens in accordance with the cabinet and countertop color.
Make sure to include lights under your cabinet and using hanging lights instead of recessed, they will provide brighter and direct light.
Using Hardwood Flooring
Unless you want to get complaints from your customer and calls regarding the condition of the kitchen flooring, avoid hardwood flooring. It does not make sense having a flooring type that will get lots of spills and traffic and that will take a beating. Instead, have ceramic tile install on the floor and your project will have a nice flooring solution for your kitchen. Some builders are now recommending using cork flooring but I will still try to be away from it. Don't forget to add radiant heat flooring to avoid standing on a cold tile during the winter months. Do remember that most of the countertop electrical outlets should be GFCI and do not forget to add an electrical outlet to the kitchen island.
HVAC Sizing
A kitchen remodeling process will also take care of some HVAC issues as well. Remember the kitchen is an area that will have some movement, heat and appliances generating heat all the time. So don't oversize your AC unit just because it is hot, but rather think of having the proper exhaust fan/vent to get the odors and heat out of the kitchen.
Make sure that you have the right location for it, to avoid having a conduit and fascia running parallel to one of the kitchen walls.
Stylish and Fancyness
Now to the most important factor, the visual aspect of the kitchen remodeling process. There are many areas that should be carefully planned such as cabinet doors, countertops, wall tile, appliances, sink, and overall color of the walls. Make sure the walls are painted with a color that goes along with the kitchen cabinets, floor tile, appliances and even the lighting fixtures.  Finally, don't use an avant-garde design in a house with a facade of 1800's. It will look awkward and will change the mood of your house. Even the decoration inside the house must be in accordance with your new kitchen ideas.