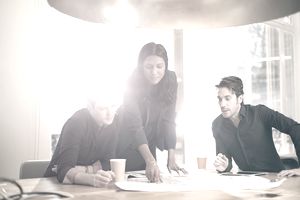 Let's face it, the need for rebranding happens for a variety of reasons.   When the subject of rebranding comes up it's normal to feel a variety of emotions starting with anxiety, feeling overwhelmed and also experiencing the excitement.   Rebranding often happens when the business identity no longer hits the mark within their market. On the average, it is advised that businesses change their branding and/or identity every seven to  ten years.
  While rebranding is a daunting task, you can also do damage by not rebranding, consider what happen to Microsoft when they didn't rebrand for over 25 years, their brand became stale and dull in the marketplace and overshadowed by what Apple was doing. 
When to Rebrand 
Rebranding can be necessary for a variety of reasons, the majority of reasons fit into the following four categories: 
Ownership Change 

Business Strategy Change 

Positioning Change 

Industry or Business Environment Change 
Rebranding can happen in many ways, sometimes it's not always a complete overhaul of the company, it may just be a logo change, a color palette change or changing of the company's voice. The one thing that is a given is that rebranding creates change and change is often difficult not only internally but externally, so only consider rebranding for the right reasons.  Your rebranding strategy must focus on the following elements: 
Your Target Market 
Who is your target market, who are you speaking to?  Has your target market changed over the evolution of your business?  Or has your business evolved but you are still serving the original target market identified?  
A successful rebrand will require your ability to not only identify your target market but the ability to speak directly to them.
 You need to know who they are, what they need, what they like and even what they dislike.   Who are the personas of your target market?    If you are unsure you have some discover work to do.  You should know your target market like they are a family member that you are close to.  The more you know about them, the easier they will be to market to because you'll be speaking their language.   When considering rebranding, you need to identify whether the current brand still has the ability to talk to your target market or if there is a true need for rebranding.  Knowing your target market will help you in identifying that need.  
Your Story 
What's your brand story? What does your current brand represent? What will the new brand represent? Is there a difference?   Does your current mission and value statement still work with your brand? What about the new one?  A great place to start to determine the needs for rebranding is to begin to revise those two statements and see where you stand.   Remember, a mission and value statement guide the direction of your brand and should be the foundation of your brand story.  
If you  are convinced that rebranding is the right course of action, just be aware of and prepared for the risks involved.
  Basically, the risks fall into two categories those internally impacted and those externally impacted. Use the guide below to help in mitigating the risks in these two categories in the rebranding process, in the end, you will be glad that you did.  
Prepare for Success by Protecting Yourself from Rebranding Risks 

Avoid Confusion by Preparing Internally 
So, you want to rebrand.  The first thing you must consider is how this will impact your staff and employees.  If you are a one-man shop it's a little easier for you.  If you have staff members, you must get them onboard.  Afterall, it is your employees that will implement and execute the rebranding strategy and plan.  They will be required to not only embrace the change but be calm and comfortable in the process and let's face it there are a lot of people that do not care for change.
 How can you prepare your internal for the rebranding rollout? A few things that come to mind include the following:  
Give them plenty of notice.   
Give them time to adapt to the change, don't spring it on them without giving them time to process.  Explain what's going on, why you are rebranding and most importantly how this change impacts them individually.  This is crucial, while I'm sure they love working in your company, their ultimate concern is how any change will impact them, their jobs and their future with the company, be sure to address these items individually and allow them to ask questions.  

Ask for input.  
Employees care about the companies they work for.  They also have a great deal of insight into customers of the company after all employees are the engine that keeps a company going from day to day.  Encourage them to give input, feedback and involve them in the planning stages, this will help them to embrace the change and get excited about it.  

Keep them informed throughout the process.  
Once you have them onboard and excited, keep them informed throughout the process. This will help them in staying excited about the changes and adaptable.   Keeping them informed will also help them to stay calm as changes are being implemented.  
Avoid Confusion by Preparing Your Market  
Rebranding takes planning, it's not something that can be just thrown together over a short period of time and thrown out to the marketplace.  You must take into consideration everyone that will be impacted by your rebranding efforts. We've already talked about your internal risks, now let's talk about external risks.  You will want to avoid  confusing current customers, prospects and your overall industry.  Confusion can destroy your client base leaving you to start at the ground floor.  Plan everything from the strategy, messaging and rollout in a way that provides a clear and thorough introduction.   A well-executed plan will help in eliminating any confusion.    
Tell the Story 
As consumers we all love stories, so try to think of rolling your new brand out as a story.  Use the story to tell the meaning behind the new brand.  Why the transition? Why is it necessary? Have your story written, socialize it and let people feel like they are a part of the birth of this new venture.   A story can answer a lot of the questions without feeling like a dry Q&A .  It can draw people in and create a connection and that should be the goal of any brand, new or old.   

Don't Forget the Details 
We can certainly sensationalize a rebranding, but don't forget the details. There are a lot of pieces that have your current brand on them, you'll need to do an inventory and identify what items will need to be rebranded before the rollout. Below I've provided you with a quick list of items that often get forgotten.  

Website 

Social Media Channels / Platforms 

Building Signage 

Letterhead / Business Cards 

Email Signatures 

Online Directories and Backlinks 

Advertising and Marketing Materials 

Merchandise 
The fact is rebranding is not for everyone, do your homework, research companies that have rebranded in the past and learn from their success as well as their failures. Remember, knowledge is power. I've compiled a few branding cases that can get you started in researching success stories as well as failures when it comes to branding.   
A few key lessons you can learn from the above examples that you need to remember when working on your current brand or a rebranding strategy: 
Your brand tells the story of who you are.
Your brand must understand customers needs, wants, and behaviors.   

Your brand purpose must always be clear and on point. 

Your brand cannot get lost in translation.   

Your brand must be flexible and have the ability to evolve with time and still stay relevant to your market.  
If you can but your brand through those five checkpoints and it passes you can be comfortable in knowing that you are headed in the right direction.