Key Steps Needed Before Extending Credit to Customers
How to increase sales by extending credit while protecting your bottom line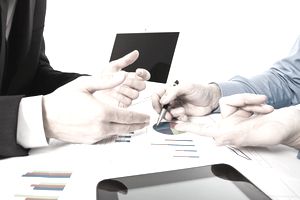 Most people at one time or another entertained the idea of being in business for themselves. However, it is good to know that when you decide to venture into the business world, you are taking a very huge risk with your finances. Of course, every business owner's aim is to make a profit but at times engaging or having a poor credit policy may lead to suffering from unpaid invoices from customers which eventually may lead to business failure.
Here proper steps you need to take as a business owner when extending credit to customers. Having a strict yet flexible credit policy is very essential for business prosperity. A policy that is too strict will definitely chase away customers, but on the other hand, a policy that is too lenient will make customers default in payments. Thus, you need to have a credit policy that will make you retain customers and at the same time get all your debts repaid on time. Your business credit policy should include the following:
Have Credit Limits Set for Each Customer
In any type of business, there will always be different categories of customers that will come to purchase different products. As the law of nature states, individuals can never be equal and this also applies to customers since they have different buying habits, varied purchasing power and behaviors. All these should give you a hint on the amount of credit limits to set for each customer that qualifies.
It is not advisable for a business owner to offer credit to every customer that applies. Doing so could land you in a financial crisis that you never foresaw. It is therefore important for a small business owner to be very selective when it comes to granting any amount of credit to customers.
Set the Terms of Sale
As a small business owner, you have to be very cautious when it comes to extending credit to your customers.
Your credit policy should have the proper terms of sale listed on the agreement. There are two options from which you can choose from; to begin with, open credit does not require any form of down payment such as net 30 accounts. Secondly, revolving credit involves the customer paying a certain amount of interest on goods given on credit.
The former is best suited to customers that pay all their debts on time. For instance, the net 30 account should be repaid within a 30 day period and has some discounts such as 2% discount if the customer pays within 10 days and so forth. Having discount incentives on products purchased on net terms will encourage customers to pay earlier which ultimately increases your cash inflow.
Commit Your Policies to Writing
It is very unfortunate that many small business owners start offering credit terms to customers without setting up the proper terms and conditions that guide or hold together both the business owner and the customer. For any business to be successful, there has to be rules and regulations that play a very crucial role towards propelling the investment to higher levels.
Have policies that dictate who qualifies to purchase your company's goods on credit.
This will help you avoid extending credit to anyone that approaches you. If the customer doesn't meet the rules and guidelines, then just tell them why they do not qualify and explain to them what they are supposed to do to qualify. This is a good way of having potential borrowers in waiting that can boost your sales in future.
Have a Proper Debt Collecting Plan
In order to properly have a good credit term policy, the business needs to have a debt collecting plan that will be used to collect money from those customers that default in payment. As stated above, have it in written form and let every customer sign the agreement. There are different ways through which bad debts can be collected.
In case a customer fails to repay for the goods purchased on credit, you may decide as the business owner to either hire a debt collection agency that can collect the debt on behalf of your business or the policy could state that anyone that fails to honor invoices should be sued or in other cases penalties should apply.
Always Update Your Credit Limits
While keeping customers that have been with you since day one is essential, there are times when adjustments must be made for even your best customers. The reality is that at times loyal customers are hit by harsh economic times which forces them to delay in making their payments. When such an occurrence happens, you are advised to take note of that and make the necessary adjustments. One of the best ways to deal with that and limit your risk is by reducing the amount of credit that one can access.
On the other hand, there are some customers who could start off with delaying in payments but after some time, they make an improvement in terms of payments. Whenever a customer makes prompt payments and starts purchasing goods on a regular basis, then you are also supposed to increase their credit limits.
Always Remind Your Customers When the Payment Is Due
As a small business owner who does not want to get into disputes with customers when it comes to payment of their invoices, there is a need for you to remind them that they are supposed to make their payments in due course. This will keep them on their toes to clear their balance owed and use their credit line for additional purchases.
Failure to remind your customers about when they are supposed to make their payments may create a problem for both you and your customer. In order to create harmony and keep a good relationship with your customers, it is good to keep reminding them on when they are supposed to make their payments. This will actually enhance a very good relationship between your business and your customers because of proper communication.
If you have a business that deals in extending credit to customers, drafting a policy with the above measures will definitely improve the success rate of your business.