Katherine Anne Porter: A Biographical Sketch
A Short Bio of Katherine Anne Porter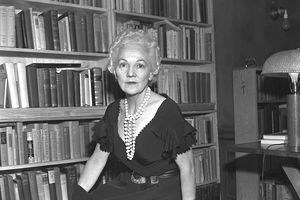 I came across Katherine Ann Porter recently while browsing through the Paris Review Interviews at the library. Skipping the introduction, I went straight for the meat, and was quickly drawn in by Porter's confident, lively answers. It was only later, at home, that I returned to the introduction and noted the editorial footnote: "Much of what follows is factually incorrect. But as Porter was renown for embellishing and glamorizing her past, the editors have decided to leave fake enough alone." If the voice in the interview hadn't convinced me to delve into Porter's work and biography, that footnote surely would have.
Katherine Anne Porter: Early Life
As a result, I soon discovered that Porter's real life was at least as interesting as her invented one. Born Callie Russell Porter on May 15, 1890, in Indian Creek, Texas, Porter overcame more than her share of hardship on the way to literary success. Her mother died when she was two and her father was a shiftless, temperamental man, who was neither a consistent parent or an adequate provider. Her strong-willed grandmother, whose name she would later adopt, provided the only constancy in her young life.
Porter managed to get a year of formal high school education at the Thomas School, a private school in San Antonio, where she hoped to learn the skills to become an actress. For many years she did help support her family by acting, singing, and teaching singing and music. At age 16, she married John Henry Koontz, entering into her "preposterous first marriage," which would last nine years, the longest of her three marriages.
Under the influence of his family, she converted to Catholicism, which would become an important influence on her work.
The Beginning of Katherine Anne Porter's Literary Life
Porter's literary life began, unexpectedly enough, in a sanitarium in San Angelo, where she met Kitty Barry Crawford, one of the first newspaperwomen in Texas.
Through Barry Crawford, she, too, began a career as a newspaperwoman, first in Fort Worth and then in Denver. In 1919 she moved to New York's Greenwich Village, where she worked in publicity and continued to write and publish.
While many of her friends and colleagues went to Europe during this time, money and health problems prevented Porter from following suit. Instead, she moved to Mexico, which would provide the setting for several of Katherine Anne Porter's best-known stories, including "Flowering Judas" and "María Concepción."
The publication of Flowering Judas (1930), her first collection of short stories, led to a Guggenheim Fellowship, which allowed her to finally travel to Europe with her companion, Eugene Pressly, whom she would later marry. After spending time in Germany, Porter fell in love with Paris and settled there for four years.
Though Porter obviously overcame a lack of education in order to become an esteemed writer, she never developed the self-discipline an education would have given her. In addition, she was very social, drank heavily as she got older, and had almost continual problems with men. While the lack of stability may have limited her productivity, no critic would argue against the quality of the published writing.
In the Paris Review interview, she said, "I started out with nothing in the world but a kind of passion, a driving desire. I don't know where it came from, and I don't know why -- or why I have been so stubborn about it that nothing could deflect me. But this thing between me and my writing is the strongest bond I have ever had -- stronger than any bond or any engagement with any human being or with any other work," and it seems that this, at least, was true throughout her life. Her single novel Ship of Fools appeared to rave reviews in 1962, when she was 72.
In 1966, her Collected Stories of Katherine Anne Porter won both the Pulitzer Prize and the National Book Award. She died at the age of 90 in a nursing home in Silver Spring, MD, in September of 1980.
Katherine Anne Porter's most acclaimed stories and novellas are well worth the reading (and re-reading).
Afterwards, follow-up with a more in-depth biographical study.