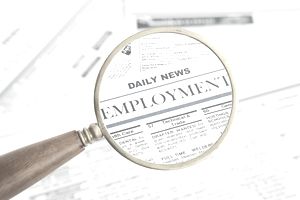 When you look at employer job postings, you will find information that will help you determine what a company is seeking in the ideal candidate for the job. You should also be able to get an idea about whether you have the qualifications that are necessary to get hired for the position.
What's Included in a Job Listing
Job listings typically include experience and education requirements, a description of the position, what materials you need to apply, how you should apply, and the deadline to apply if there is one.
Here's an overview of what is included in each section of a job listing:
Education Requirements: Employers typically list the educational requirements for a job in job postings and in job descriptions.
Required Application Materials: Required application materials include the documentation you will need to submit to the employer to apply for a job. Supporting documents for a job application may include a resume, a cover letter, transcripts, a writing sample, Veterans' Preference documents, portfolios, working papers and certifications.
References: Some employers require job applicants to provide references with their job application rather than later on in the hiring process.
Salary Requirements: Many job postings ask you to include your salary history or your salary requirements when applying for the position.
How to Apply for the Job: The job posting will provide detailed instructions on how to apply. It's important to follow the directions or your application may not be considered. Options that employers use to receive applications include online applicant tracking systems on company websites, email, in-person applications or applications via job sites like Monster or CareerBuilder.
Deadline to Apply
In some cases, employers will want to receive an application by a certain date. The application deadline, if there is one, will be listed in the job vacancy notice. Don't wait until close to the deadline to apply. The company may review applications as soon as they are received and you may have a better chance of being considered for an interview if you apply early.
How to Decode the Job Posting
What does all that information in the job posting mean? What does the employer really want? Here's how to decode a job advertisement and a list of frequently used job search jargon with an explanation of what the company is looking for in applicants.
Match Your Qualifications to the Job
Job postings can be very detailed and complicated which can make it hard to decide whether you should apply for the job. For example, I've seen some help wanted ads that list multiple combinations of education and experience.
One way to decide when you should take the time to apply, or if it's not worth the time and effort, is to make a list of the job requirements, including skills, experience and education, in the ad. Then list your qualifications next to the requirements.
If your qualifications are a close match for the job, it can make sense to apply. There may not be a "perfect candidate" for the job, and if you come close, you could make the cut.
On the other hand, if you come up short on everything the employer is seeking, it's not worth spending the time to put in an application.
If you're not a match with what the company is seeking in an employee, your resume won't get selected by the software many companies use to choose candidates for interviews.