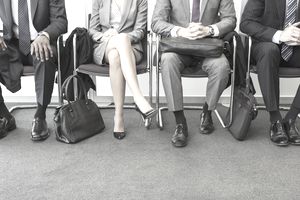 Below is a job interview guide to help you get ready to interview. Once you have been selected for a job interview, it's important to prepare properly. That means practicing interview questions and answers, dressing in appropriate interview attire, and, after the interview, sending thank you letters to your interviewers.
You not only have to make a great first impression appearance-wise and have a great knowledge of your target company and its product, you also need to know exactly how to convey that you're the perfect fit for the job.
The first impression you make on a potential employer is the most important one. On a job interview, your attire makes a statement about yourself before you even open your mouth. Here's how to dress professionally for a job interview.
Knowing how to put together a strong answer to the most common interview questions is obviously key to landing a job. The best job candidates spend a lot of time preparing for the job interview because they know how important that 30- to 60-minute interview can be to their entire career.
Here are some questions you'll be asked when interviewing, how to prepare answers to interview questions, and sample answers.
The various types of interviews that employers may conduct, including behavioral interviews, group interviews, phone and video interviews, second interviews, and even interviews held during a meal.
Review the different types of interviews, examples of the questions you will be asked, along with tips on how to interview effectively regardless of the situation you're in.
Also review information on other types of employment-related interviews including exit interviews, mock interviews and informational interviews.
Even if you're accomplished at interviewing, it's essential to spend time thinking carefully about what skills, accomplishments and interview answers will resonate with your interviewers most. Your management abilities? Your creativity? The examples you share will probably be slightly different everywhere you interview. Here are some advice and tips for successful interviewing.
Interview preparation and etiquette, interview blunders, and post interview follow up.
Spend a few hours learning everything you can about the company—from as many sources as you can. Talk to friends and contacts and read current news releases. Often, candidates just look at the information a company is pushing out via the website and social media, but fail to look more in depth at what others are saying. By doing so, you'll get the larger picture about the company.
Here are some more strategies for effective interviewing including following up.
Whether or not you think the job interview went well, you can always improve your chances of getting the job if you send a thank-you letter. Your letter should reiterate your core strengths and emphasize the value you offer.
You can also add any important information you didn't get to discuss in the interview.
Here are thank-you letter samples applicable to a variety of employment-related situations.