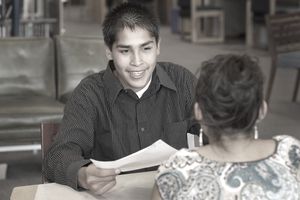 One of the most frequently asked interview questions is why you are looking for a job. Here are sample answers for high school students seeking employment.
Teen Interview Question: "Why Are You Looking for a Job?"
The interviewer asks this as a general question. You'll hear it again and again as you apply for jobs through the years. It will give you an advantage if you have an answer for it. The answer, "I don't know," or, "My mom says I have to get a job," are unlikely to rank you higher as a candidate.
The best answers are ones that show you are interested in what you will learn and experience at the job for which you are applying. It isn't always going to be applicable for the entry-level jobs that are available, but there may be an aspect of the job that will prepare you for a higher-level career. Do a little research on the company and think about what you could learn by working there. Even if you're just washing the dishes, filing papers, taking orders, or flipping burgers, you are developing skills that may be useful for your future career.
It is also good to respond with a goal or plan you have with the money you will earn from the job. The employer will see that you are motivated to work to meet your goals. They probably have had some bad experiences of employees who don't come to work consistently. If you have plans for your income, it shows you will be more likely to stick with the work schedule.
Suggested Answers for "Why Are You Looking for a Job?"
I am thinking of a career in this field, and it would be good get experience at the entry level and see what professionals in this field do in their positions.
I like to work with people, and this job will help me develop my skills in communicating with customers.
I think I'd enjoy a job in marketing or communications and I'll develop those skills in this customer service job.
I like to work with my hands, and this job will let me develop those skills.
I would like to work so that I can earn some spending money. I appreciate my parent's help, but I'd like to have a little more money to spend on my own.
Ever since I could remember, I have looked forward to the day I was old enough to get a job. I cannot wait to start earning my own money so that I can save up for something special, like a car.
Since I will be a senior in high school in September, I am starting to save for the books, supplies, and extra spending money I will need for college.
I am looking for a job because I am trying to save money to pay for a trip that my best friend that I would like to take over winter break or when my work schedule permits.
Review more job interview questions and answers for teens to be sure that you ace the interview.