Is Your Smartphone Holding Back Your Career?
Time Management a Key to Sports Career Success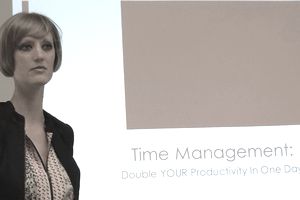 In any career time management is a key to success.
And in the world of sports business - especially on game days or when running events - it is hard to imagine doing the job without the constant connectivity a smartphone enables.
But what about in your other roles?  Or when it isn't game day?
I recently attended a talk on time management given by Sarah Scudder, Chief Growth Officer at The Sourcing Group.
 She offered six excellent tips for becoming more efficient in managing your time (more details below).
But my major takeaway is that your phone might be stopping you from advancing your career. I would encourage you to ask yourself these three questions:
Are you handling personal matters at work on your phone?
Are you distracting yourself by checking social media when you should be focusing on your professional responsibilities?
Would you be a better employee if you turned off your phone?
If you had any hesitation on answering any of those questions, it is likely that you need to rethink your phone usage and its impact on your productivity and professional reputation. Because, trust me, other people notice.
Of course your phone usage is not the only factor keeping you from being more productive. The six time management tips that Sarah Scudder offered to the attendees at the Petaluma Young Professionals Network audience are:
Eliminate Interruptions  While this can seem unavoidable in a face-paced, open-cubicle environment, interruptions take a real toll on productivity - not just the interruption, but how long it takes to fully reengage with your work. Pick a day next week and keep track of how many times you are interrupted. The results may surprise you.
Get Organized  Both at home and at work, are you as organized as you could be? Do you spend too much time "looking" for things? Is your computer organized so you can easily access information when you need it? Investing time in getting more organized will pay off many times over in the months and years to come.
Plan Your Day in Advance  Having a plan of attack that prioritizes your day can create greater efficiency. Whether that planning is done at the end of the previous day, during your commute or as your first activity upon arriving is not important. But taking the time to plan will give your productivity a boost.
Turn Off the Internet  I audibly gasped at this suggestion. But we all know that the Internet can be a tremendous time drain, whether on your phone or at your desk. What if you picked a two hour block to be internet/phone free? Would you get more done in that two hours than you typically do? It is certainly worth trying.
Stop Multi-Tasking  We all think we can be efficient while multi-tasking. But in reality it is not true. This video featuring MIT and Stanford students shares some of the research showing multi-tasking lowers your effectiveness. If you multi-task less, you can enhance your productivity and the quality of your work.
Be Healthy  Getting the proper rest (along with diet and exercise) will make you more productive. Tasks will take less time, freeing up more time. The value of rest for athletes in their ability to reach peak performance is well established. The same logic applies to you - if you are well rested, you can perform at a high level.