Learn About the Structure of Starbucks
Most of the stores are company operated and not franchised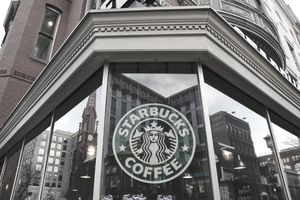 In 1971, three partners who met in college opened the first Starbucks in Seattle, Washington. They were inspired by coffee roaster Richard Peet and sold fresh-roasted gourmet coffee beans in addition to teas, spices, and other coffee-making supplies, naming their store after the obsessive chief mate "Starbuck" from the novel Moby Dick. The early Starbucks did not sell brewed coffee and sourced their green coffee beans from Peet's.
Starbucks purchased Peet's in 1984 just as sales of specialty coffee were beginning to take off, and quickly grew.
In 1987, Howard Schultz, vice president and general manager of Hammarplast USA, noticed that Starbucks was purchasing quite a few of his company's espresso machines. This attracted his attention, so he decided to take a look at the business for himself. When he arrived in Seattle he found out that there were four locations in operation under the ownership of Gerald Baldwin and Gordon Bowker.
Shortly after his visit, Schultz joined the owners' team to offer his marketing and business expertise. A year later while vacationing in Europe, Schultz realized that in Italy coffee shops were an important part of people's daily social lives, and he decided he wanted to try to replicate the feel of an Italian coffee shop in the U.S.
At that time, he left Starbucks to open one of his own coffee shops that would more closely mirror the type of shop found in Italy.
However, he later found out that the Starbucks owners were interested in selling their stores. Schultz purchased the chain for $3.8 million and combined the stores with his own coffee shop. Starbucks had its initial public offering (IPO) on the stock market in 1992.
The Structure of Starbucks
Schultz quickly set out to overhaul the entire operation through several strategically planned adjustments.
First he expanded the items that Starbucks would offer to include more gourmet-type drinks such as espresso, café latte, and iced coffee. Even more importantly, he enhanced the company's interaction with its employees by training the employees to provide top-notch customer service and making Starbucks an enjoyable place to work, offering many perks and benefits and comfortable living-room style seating.
The company experienced tremendous growth throughout the 1990s and took its place as the country's No. 1 specialty coffee retailer. With well over 16,000 locations worldwide, many people believe that Starbucks is a franchise. However, in reality, it is considered the world's leading coffee chain.
Most Starbucks stores in North America are company-operated. The company does sometimes enter into licensing arrangements with companies that provide the right to use particular locations that would otherwise not be accessible, such as airports, grocery chains, and colleges or universities. Starbucks calls these special market arrangements coffee and tea "programs," and will also consider qualified high-volume or high-traffic retail locations.
Starbucks' wholly owned subsidiary since 2003, Seattle's Best Coffee, does franchise the operation of its cafes and kiosks.
As of the middle of 2008, this subsidiary had over 540 cafes in the U.S. as well as nearly 100 espresso bars, with retail stores and grocery sub-stores in 20 states and provinces and the District of Columbia. Sub-stores can be found within many other businesses and college campuses, including Subway restaurants.
A Well-Executed Concept
Although Starbucks is not considered a franchise, it is still thought of as a valuable example of a well-thought-out franchising concept because of its business principles. Clever marketing, a consistent product and image, superior customer service, and good old-fashioned hard work have led to its success as a multibillion-dollar business.
This company demonstrates that it is possible for a small business operating on these principles to become very large and successful.
As Howard Schultz wrote about the company in his book, "There was something magic about it, a passion and authenticity I had never experienced in business. Maybe, just maybe, I could be part of that magic. Maybe I could help it grow."​