Is It Time To Switch Up Your Fundraising Event?
Get Back To Basics And Be Inspired Once More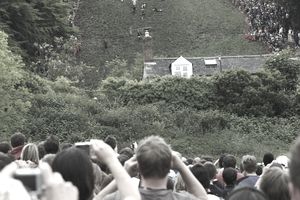 Are you a fundraising event organizer who has been putting on events for a long time? Maybe you've done it so many times that it has become routine. You know the procedure inside out and there's virtually nothing that you haven't seen or done before in event production.
But here's the problem, you're getting less interest in the events you organize than previously and reaching and beating your fundraising targets is becoming more of a challenge.
It could be that attendee numbers are lower and you're struggling to attract more people to your fundraising events or you've been using the same theme for too long.
Perhaps all you need is a fresh injection of ideas to get things back on track, so here are some pointers to help you switch up your fundraising event.  Some ideas may seem straightforward at first glance but it's often a useful exercise to start by going back to basics.
BACK TO BASICS
What are you trying to achieve?
Take time out to re-assess what it is you're trying to achieve with your fundraising event. Go back to basics and get focused on your desired outcome. Once you're 100% clear on your target don't allow yourself to deviate, rather push the envelope to the max and aim to over-achieve.
Who are you SPECIFICALLY trying to reach?
Carefully define who you're trying to reach with your fundraising efforts. Make a list of donors, vendors, friends, family, work contacts – anyone at all that can help you achieve your goals. Who is most likely to give you the support you need based on past experience? Whether it's financial support in the form of donations or practical help in getting your fundraising event organized, zero in on the people who can most help you make your event a success.
What do you want them to do?
Once your objective is crystal clear and you've identified who can help you get there, the final thing to nail down is precisely what you want each person to do for you. Make sure you're clear on this so that you can communicate your expectations and leave no room for error or misunderstanding. 
SWITCH IT UP A GEAR
Perhaps your event needs a sabbatical.  Alex Durant, President of Durant Consulting, worked with a charity in Florida that used the same event theme for over 5 years.  Their guest numbers were beginning to dwindle so they decided to have a "Non-Gala" event.  The invitation promoted that guests could spend the evening at home and save a trip to the dry cleaners for their tuxedo.  Tickets were sold at a reduced price and with the money saved on production expenses; the charity raised the same if not more money.  The following year the Gala was back with a fresh theme and guests were excited to be in the ballroom again.
Many non-profit events bombard their guests once they arrive at the fundraising event.  Although you may have a captive audience, it is important to look at how many times you are asking guests to "reach into their pockets".  Be cognizant of additional fundraising efforts you are including in one event.  After purchasing a ticket or table to attend, asking a guest to bid in the silent auction, buy a raffle ticket, raise a live auction paddle and make a generous pledge, may be a hefty pill to swallow.  Remember they are also there to have fun!  You may consider hosting the auction items in an online auction format at another time during the year to fill in the gap between annual galas and to keep your supporters engaged.
6 Ways To Keep Supporters Engaged
Personalize Your Correspondence – email is quick and efficient but have you ever considered sending handwritten requests for support? A handwritten letter is more personal than an email and much less likely to be sent straight to the trash. You will also avoid overcrowded email inboxes where, even with the best will in the world, your contacts can overlook your message. A handwritten communication adds a special touch and shows that you've made a special effort to get in touch.  Sometimes all it takes is handwriting the name and address on the envelope.
Get Face-to-Face – as well as personalizing your correspondence, make sure to get in as much face-to-face communication time as you possibly can. People find it a lot more difficult to say no when you talk to them personally.
They will donate and support you if you simply ask them while face-to-face.
Follow Up - never be afraid to follow up with people if they have said that they will donate and they haven't done so. We all lead busy lives and it may be that they simply overlooked or forgot about your request.
Two Little Words – always remember to say "thank you" to anyone who supports your fundraising event. A hand-written thank you note makes your supporters feel good and is often overlooked. Include a picture of your guests as a memento.
Online Tools – it makes sense to use any and all tools available to you as an event organizer and an excellent online tool to consider is Blackbaud's Friends Asking Friends. You can find it here:
This tool helps you organize and put together very professional pages that can be shared via social media, for example. The more organized you are and the easier you make it for people to become involved, the more successful your fundraising event will be.
BE INSPIRED
Finally, remind yourself of the reason you got involved in fundraising in the first place. Re-ignite your passion for the cause you're supporting and always, always be inspired and enthusiastic in your work. People will respond positively to you if you come across as being passionate about your work. This is probably the quickest and best way to switch up your fundraising event.