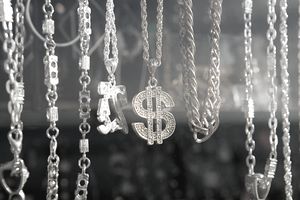 MRP stands for material requirements planning. 
Mr. T stands for doing the right thing and helping others, as he demonstrated in his 1984 motivational video "Be Somebody... or Be Somebody's Fool!"
In the 1980's, MRP (materials requirements planning) evolved into manufacturing resource planning (or MRP II).
In the 1980's, Mr. T evolved from his Clubber Lang role in "Rocky III" to his Bosco "B.A." Baracus role in "The A-Team" TV series.
MRP versus Mr. T
Your MRP is there to help you optimize your supply chain.
Mr. T pities the fool who doesn't optimize his or her supply chain.
You can use your MRP to help with inventory control, scheduling, and bills of material (BOM) management.
The A-Team used Mr. T to drive that awesome van, fix any engine that needed fixing and as comic relief whenever he had to be a passenger in an aircraft piloted by Mad Dog Murdock.  (B.A. Baracus hated flying.)
Your MRP needs accurate lead time data in order to process its inventory, scheduling and purchasing calculations accurately. 
Mr. T needed two rounds to knock out Rocky Balboa in their first bout.  (Okay, yes, that was Clubber Lang who knocked out Rocky.  And Rocky would get his revenge and Apollo Creed's shorts in the rematch.)
Your MRP will send you messages and tell you to place purchase orders, expedite purchase orders, delay purchase orders or change purchase order quantities when forecasted demand changes or actual inventory consumption doesn't meet (higher or lower) forecasted demand.
Mr. T sent a message when asked for a forecast for his fight against Rocky.  His prediction?  "Pain..."
Your MRP is a tool that you can use to answer three basic questions: What products do I need?  When do I need them?  How much of each product do I need?
As Clubber Lang, Mr. T answered questions with his fists.
  As B.A. Baracus, Mr. T answered questions with his sense of justice and his awesome driving skills (see above).  And in the cartoon "Mister T", Mr. T answered the question, "Can an animated gym owner help gymnasts train and also solve mysteries and fight crime?"  The answer: a resounding "Yes!"
When deployed correctly, you can use your MRP to help you get your customers what they want when they want it - and optimize your revenue while accomplishing that. 
When Mr. T was deployed to Vietnam (okay, yes, his character B.A. Baracus was deployed to Vietnam prior to the events of the TV series "The A-Team"), he and his team were accused of a crime they didn't commit.  As a result, they ended up on the run from the U.S. government.  While on the run, B.A. and his buds protected the innocent, exacted revenge on various bad guys and optimized justice while accomplishing that.
Your MRP was designed as a tool to help you manage your supply chain and business.  If the lead times, safety stocks and BOM's are set up correctly, you do not need to use offline Excel spreadsheets or other workarounds.  If you are operating outside your MRP to manage your supply chain, your supply chain isn't optimized.
  To fix this, start by looking at what data your MRP is using to send you those purchasing and scheduling decisions.
Or, as Mr. T rightly pointed out, instead of an optimized supply chain, you'll experience "Pain..."