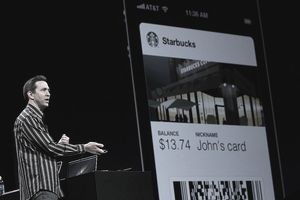 Whether you got a new iPhone for the holidays or you've been fiddling with yours for months, one thing you probably noticed was the presence of a new feature pre-installed on iOS 6 called "Passbook." Many people had no idea what it was, other than seeing its tagline, which says, "The simplest way to get all your passes in one place." If you don't see yourself using a lot of "passes," you may have exited the program immediately.
However, you should know about a few potential ways that Passbook -- which intends to act as your mobile wallet -- can help you save money.

1. Coupons. Several popular apps, including Coupons.com, ValPak, and Yowza are already integrated with Passbook, which means that if you find a coupon that you plan to use in one of these (or one of the other Passbook-compatible apps), you can add that specific coupon to your Passbook. Then when you go to a store and plan to use your coupons, you don't have to open each specific app to find where that coupon went – it's already stored in your Passbook.

The photograph above shows a sample of what my Passbook looked like after I "clipped" coupons using each of these apps. You can clearly see my 40% off Michaels.com coupon at the top, a local restaurant coupon in the center, and an Ulta coupon at the bottom, which I can quickly find when I tap the Passbook tool on my iPhone's home page.


2. BillGuard. Quite honestly, I was not familiar with this program until I started fiddling with Passbook, but it came up on a list of Passbook-friendly apps, so I downloaded BillGuard and checked out its benefits. It certainly got my attention to read that BillGuard users have saved over $1.1 million thanks to the app, which allows you to register your credit and debit cards, and then the app scans your charges to ensure that you aren't facing hidden charges, fraud, or billing errors.
This way, instead of reading through your statement at the end of the month and attempting to remember whether you actually did buy a $16 magazine subscription from an outside-the-U.S. website, the app will flag any questionable charges and check with you to review them.

3. Save on Printing Boarding Passes, Tickets, etc. I know this may not sound like a huge advantage to a lot of people, but I am fanatical about conserving printer ink. It costs a fortune and it's a hassle for me to remember which type to buy when I go to OfficeMax, so I'm always happy to save ink (and paper) by not having to print.

Passbook allows you to store your boarding passes, so you'll just scan them directly from your phone when you check in to a flight. In addition, it will store event tickets you bought using apps such as Fandango, TicketMaster, and LiveNation, among others. So if you buy movie tickets through Fandango, you can avoid printing your ticket and just show the usher your mobile ticket via Passbook.

Bonus: Save on Fuel by Using Apps That Show You the Closest Deals. Certain apps that you may already have, such as NearMe will show you the deals closest to your house, so you can ensure that you don't have to waste expensive gasoline driving all over town looking for bargains.
You can then store the deals you find at NearMe, ValPak, and other local-based couponing apps in Passbook for easy reference when you get to the shop.