Introduction to Fork Lift Trucks
Fork Lift Trucks Provide Key Role in Material Handling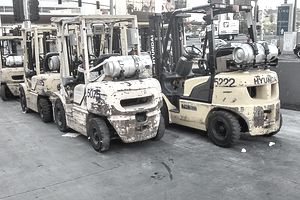 A fork lift truck, also known as a forklift and other names, is a powered industrial truck. It's main purpose is for material handling within facilities or compounds, especially the capability to lift loads to be positioned at height as well as to lower them as needed. Fitted with specific attachments, the fork lift truck also is used to perform other related functions such as the transfer loads from slip sheets onto pallets, as well as to clamp them or to invert them.
Since their introduction in the early 20th Century, fork lift trucks have played a powerful role in materials handling. This article provides an overview of lift trucks, including their evolution, an overview of the various categories of lift trucks, and considerations for safe operation.
History of Fork Lift Trucks
Fork lift trucks first emerged in the late 19th Century. These were low lift trucks that raised platforms just a few inches high. Typically these were used for moving material within a shop, such as work-in-progress. High lift trucks emerged in the late 1910s, and truck design improvements continued to take root. In the 1930s, tier trucks allowed the stacking of loads, allowing for greater storage efficiency.
Growth of lift usage was slow in the 1930s, however. During the Great Depression, labor was freely available while capital for investment was much harder to source. Then in World War 2, the use of forklift trucks became a strategic part of the war effort.
With manpower shortages resulting from wartime enlistment, the forklift and an operator (and increasingly female operators as World War 2 progressed) could do the work of many men, increasing productivity versus manual handling. After the War's conclusion, lift trucks emerged as a mainstay of material handling equipment.
Forklifts and pallets left behind by the U.S. military in Australia became the basis for the Commonwealth Handling Equipment Pool (CHEP), which became the world's largest pallet pooling company.
There is a broad selection of lift trucks, designed to best meet the needs of various material handling applications. The seven major lift truck classifications in the U.S. include:
Class I: Electric Motor Rider Trucks
Class II: Electric Motor Narrow Aisle Trucks
Class III: Electric Motor Hand Trucks or Hand/Rider Trucks
Class IV: Internal Combustion Engine Trucks (Solid/Cushion Tires)
Class V: Internal Combustion Engine Trucks (Pneumatic Tires)
Class VI: Electric and Internal Combustion Engine Tractors
Class VII: Rough Terrain Forklift Trucks
The Importance of Training and Safe Operation
Operator training is a requirement in much of the world, and with good reason. It seems that almost daily there are reports of injuries or fatalities involving operators of lift trucks or pedestrians in their proximity. Data from the Bureau of Labor Standards (which always lags) indicated 54 forklift related fatalities in 2010 where the forklift was the primary injury source, and another 56 where the forklift was the secondary source.
OSHA requires employers to "develop and implement a training program based on the general principles of safe truck operation, the types of vehicle(s) being used in the workplace, the hazards of the workplace created by the use of the vehicle(s), and the general safety requirements of the OSHA standard." By the end of training, operators must demonstrate the ability to perform their job safely in their workplace evaluation. Training involves formal and practical components. OSHA requires refresher training every three years, as well as at any time that an operator demonstrates a deficiency in safe lift truck operation. More information is available at its website.
Safe Lift Truck Operation
Safe lift truck operation involves several steps, including:
Pre-Operation (pre-operation inspection and operational inspection, removal from service and maintenance requirements)
Traveling & Maneuvering (safe travel practices and seat belt use, tip-over, mount/dismount, stop/start, speed, turning, navigating inclines, parking, and visibility.)
Workplace Considerations (Physical conditions, ramps and grades, uneven terrain, loading docks, pedestrians, narrow aisles, elevators, and enclosed or hazardous areas.)
Maintaining Operator Safety After Training
The reality is that operators who are injured or killed on the job are usually trained. This is why effective supervision is an important component of safety programs, and that operator engagement be maintained through the development of an effective workplace safety culture, possibly including elements to build a sense of professionalism, such as through participating in a forklift rally.
Resources