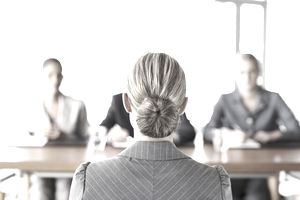 It is very common for an interviewer to conclude a job interview by allowing the candidate to ask any questions they might have about the position or the organization.  You certainly do want to have one or two intelligent questions ready to show that you are prepared and have done your research on the company, but there are several topics you should be sure to avoid entirely.  Here are five of the worst interview questions to ask:
1.  What is the salary (or benefit package)?
Salary is usually discussed in the final round of interviews or in the offer package itself (and you should not be the one to bring up this topic).  Benefits such as insurance, vacation time, and other employee perks will also be covered at the time the offer is made.  You do not want to appear overly focused on compensation during the interview process, even though this is usually an important factor for job seekers.
2.  How frequently can I work from home?
Don't assume that working from home will be an option for you unless it was specifically stated as an element of the position in the job posting.  It is unusual for new employees to immediately have a work from home option before they have established themselves in a new role and demonstrated their abilities. Working from home is a very attractive job perk, but you definitely do not want to push the envelope on this topic before an offer is made.
3.  How long would I have to wait before being eligible for promotion?
A question like this indicates that you intend to use the advertised job as a springboard and have no real interest in filling the role.  If you are only using the job to get your foot in the door the hiring manager will be right back at the drawing board trying to fill the same position in short order.
  A question like this can also make a candidate appear arrogant and impatient—qualities that are very unattractive and detrimental to a job seeker's chances of finding employment.  If you are interested in feeling out the topic of promotions indirectly, try asking about long-term growth prospects with the company.  Indicating that you are interested in staying with the company for the long term is always a good thing.
4.  Do I have to pass a drug test or background check?
Asking questions about drug tests or background checks will immediately make the interviewer suspicious, even if you have nothing to hide.  The hiring manager will let you know if such tests are required as a condition of employment when an offer is made. 
5.  When do I start?
Presuming that you have the job is truly arrogant and tends to annoy the interviewer.  Even if done in a joking manner this question is usually off-putting.  Instead, try asking what their timeline will be for notifying the successful candidate (don't presume that it will be you).  The interviewer will usually indicate the time frame in which they hope to make a decision as well as their projected start date for the successful candidate.
Final Word
You have a much better chance of securing a job offer if you can avoid making any major interview mistakes and present yourself as a confident professional.
  Be sure to practice commonly asked interview questions and have specific examples ready to back up any claims made on your resume—anything that you list there is fair game.  Also be sure to do your homework and come up with a few intelligent and appropriate questions to ask at the conclusion of your interview.  These final questions are your last chance to make an impression with the hiring manager.
A final note for animal career seekers: don't ask if you can bring your pet to work!  While quite a few animal related employers will allow dogs at the office, not all will do so and bringing this up could hurt your chances of getting an offer.