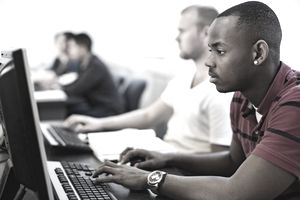 During an interviewer, you may be asked about how you are staying current in your career and what you are doing to keep up with the latest. Most employers want to hire employees who are fully invested in their career and looking to grow professionally.  
This is especially true for older applicants, who might be viewed as coasting during the latter part of their career, and for the unemployed worker, who may be presumed to be out of touch with the latest developments in their field.
To be a competitive candidate, it's important to be prepared to respond to questions about what you have done to upgrade your skills. Here's how.
How to Respond to Questions About Upgrading Your Skills
When responding to this question, you should be sure to include all the possible ways that you have built skills and stayed in touch with trends. Here are some examples:
If applicable, include traditional options like attending workshops and conferences.
You can also include online tutorials or classes that you took, either on your own time or as part of a past career.
Have you done any "DIY" learning on your own? Maybe you studied another language or learned Adobe Photoshop through YouTube videos, instructional books, or simply figuring it out on your own. If your learning ended in a tangible result -- for example, maybe you came away with basic photo editing skills or ended up with conversational fluency in that second language -- you should be sure to emphasize it.
Many professional groups now offer video conferences and other online mechanisms for professional development, which is something you can look into and include in your answer.
Local libraries and community centers offer computer classes and seminars if your basic skills need brushing up.
Reading books dedicated to your field also can be part of your response to this question. If you subscribe to a journal or magazine in your industry, you should mention that you're a consistent reader.
Active participation in online discussion groups like those on ​LinkedIn can be reported, as well. Just make sure that employers will be able to view your presence when they visit those groups.
Be sure to mention ways that you may have been improving applicable skills through your volunteer activities -- especially if you have been out of work, or job searching for some time.
You will most likely be asked to back up your answer by referencing some of the specific skills, areas of knowledge or trends that you have learned about or acquired through your professional development activities. Be ready to share some of the details about what you have learned and how it will help you if you were to be hired.