Interview Questions About School and Work
Preparing Teens For Interview Questions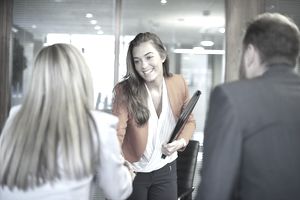 If you are a teenager applying for jobs, you should begin practicing these interview answers about school and work. Interviewing can be a stressful experience for teens looking for their first job -- so practicing can help.
Exude Professionalism
The main thing to keep in mind if you are a teen interviewing for a job is that you will want to do the same things that an adult candidate for employment would do.
That's the key to making a positive impression on a prospective employer and enhancing your chances of the getting the job. Be sure to dress appropriately, answer questions in an informed manner, and ask good questions of the interviewer. Also, arrive at least 10 minutes early for the interview.
One good way to make the best impression is to review the typical interview questions you will most likely be asked. Also, review sample answers to these typical interview questions teens are asked, and tips for acing an interview for teenage job seekers. You should take the time to personalize your responses so they reflect you, as a person and as a candidate for employment. Relax, smile, and answer the questions to the best of your ability.
When employers ask teenagers about school, they want to know about your ability to work hard and do well.
Suggested Answers
At school, I have to meet daily deadlines, set goals for myself in a variety of subjects and activities, and accomplish them.
I believe these experiences will translate to the workplace and will prepare me to excel at your company. At school, I also work with my peers and teachers every day so I know how to work in teams and with a manager.
I understand the importance of being on time and working within specific blocks of time.
One of the most useful skills I gained from my school experience was learning how to plan, execute, and complete quality work within the time period given. I feel my strong time management skills have prepared for the position you are looking fill.
I have taken a number of computer skills classes in school. I learned many different ways to utilize the technology the computer has to offer. I am proficient in Microsoft Office software, I am comfortable with doing in-depth research using the Internet, and I have become familiar with many different types of graphic design software. All these computer skills have prepared me to work for your company.
More Teen Job Interview Questions
Review more job interview questions and answers for teens to be sure that you ace the interview.
Interview Questions for Employer
Your prospective employer is there to ask you questions. But to pull off a great job interview you should also have questions ready for your employer.
A few sample questions are:
What is your style of management?
What do you like best about working here?
How can I be the best employee?
When you are done with your interview, be sure to sincerely thank the prospective employer for their time.