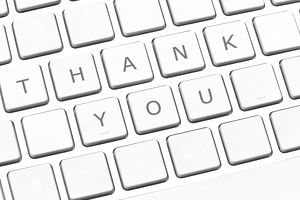 It's always a good idea to follow up after a job interview with an appreciative note or email message. The sample thank-you letter below requests a second interview because the candidate's direct report was not able to interview the candidate. The letteralso reiterates the candidate's interest in the position. Your thank you letter should follow best practices for business communication and be a good example of how you might communicate once you are hired.
Consider writing your follow-up correspondence on the same day as your interview, and if possible, mail it the same day as well. If you can, take your letter and drop it off with the receptionist in the building in which you were interviewed.
If you're sending an email message, be sure to put your name and "Thank You" in the subject line of the email message.
Sample Letter
Your Name
Your Address
Your City, State, Zip Code
Your Phone Number
Your Email
Date

Name
Title
Organization
Address
City, State, Zip Code
Dear Name:
It was a pleasure to finally meet you after our many emails and phone conversations regarding the Production Editor-Proofreader position. I truly enjoyed hearing about the Management Group and learning more about the needs of the Sales Intelligence Department. I appreciated being able to share some of the reasons why I feel that I am the ideal candidate for the job.
I also appreciated touring your facilities.
They are quite impressive, and it would be a true joy to work in such beautiful surroundings. Thank you also for introducing me to several members of your Sales Intelligence team. They were all so kind and accommodating. Please let them know I appreciate how comfortable they made me feel. I agree it was unfortunate that Bob Brown, the actual person to whom I'd report, was not in the office.
I hope he is feeling better, and I look forward to coming back to meet with him when it's convenient.
After talking with you, meeting the team, and getting a better understanding of what is involved in the position, I am even more confident that there can be no better a match. Don Pearce showed me several recent projects and Jody Fryer explained the process and gave me a look at the computer applications that I might be using. I am very familiar with the entire setup and have done work almost identical to the examples that I was shown.
Currently, my schedule is flexible, and knowing your urgency to fill the position, I would like to meet Mr. Brown at his earliest convenience. Please drop me an email or a quick call with a date and time, and I'll be sure to arrange my schedule so that I can meet Mr. Brown. Thank you again for your time; I look forward to hearing from you soon.
Best regards,
Signature (hard copy letter)(
First Name Last Name