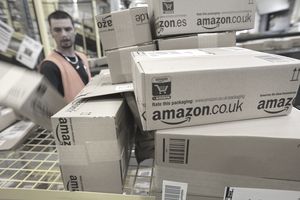 About Amazon: Amazon, headquartered in Seattle, Washington, was started by Jeff Bezos in 1995 and now is one of the top leaders in global e-commerce. Amazon offers its customers a wide-range of products and oftentimes at the cheapest prices. Although headquartered in Seattle, Amazon operates sites in the United Kingdom, Germany, France, Japan, Canada, Italy, and China.
Amazon MBA Operations Intern:
Amazon offers great opportunities for MBA interns who are looking to gain experience as a leader and growing in the Operations network.
In Operations, students will meet challenges and learn how to deal with front line management, driving scalable and continuous improvements at Amazon's Fulfillment Centers and Customer Service locations all across North America.
Interns will spend time at one of Amazon's Fulfillment Centers in Arizona, Delaware,Indiana,Kansas, Kentucky, Nevada, Pennsylvania, South Carolina, Tennessee, and Virginia or Customer Service sites in North Dakota, Washington, and West Virginia that exist within the United States. Students who are interested in becoming leaders in a global operation that employs hundreds of managers and thousands of employees will have the opportunity to explore this type of career at Amazon.
The challenge for employees and interns at Amazon is how to deliver continuous improved customer satisfaction to over 120 million customers. The role of Operations intern has both an impact on the bottom line and shareholder expectations for this growing fortune 100 Corporation.
Operations interns have an opportunity to build on their team building and leadership skills as well as meeting the challenges of running a business such as Amazon.
Qualifications (Required):
Candidates must be currently enrolled in a MBA or masters level degree program.
A total of 2+ years of academic, internship, or work experience.
Qualifications (Preferred):
Preferred candidate will have 3+ years of experience in operations, general management or engineering fields.
Amazon encourages Military Vets to apply.
Amazon is looking for candidates with exceptional interpersonal and communication skills (both written and verbal).
Amazon seeks candidates with a proven track record of taking ownership and driving results.
Seeking individuals with an ability to dive deep into data and provide thought provoking business solutions demonstrating the capability to think big, and be a big leader.
To Apply:
Candidates can apply online. To find more jobs and internships that are currently available you can also check here.
How to Improve Your Resume & Cover Letter
When applying for internships be sure to check out The 5 Ways to Improve a Resume and The Five Easy Ways to Improve Your Cover Letter prior to sending your documents to employers.
5 Steps to Improve a Resume:
Organize your information
Highlight your qualifications
Use bullet points to display important information
Include only relevant information and remove any clutter
Make sure your resume is error free
5 Steps to Improve a Cover Letter:
Address your cover letter to the right person
Capture the reader's attention
Make your cover letter stand out
Make sure your cover letter is error free
Ask for an interview at the end of your letter
By following these 10 steps you will be well on your way to getting yourself noticed by employers in hopes of getting called for an interview. The sole purpose of a resume and cover letter is to land an interview, so the effort it takes to improve your documents is well worth the effort.