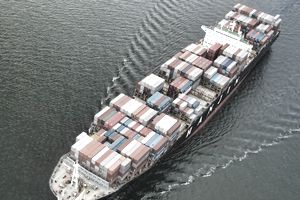 Welcome to the third edition of The Weekly Roundup, where each week I handpick several resources that are a good resource for importing and exporting. These six nuggets of info are something you would never find on your own. Enjoy! May you discover new insights, stretch your imagination and grow your business beyond borders.
According to the United States Census Bureau, "The trade deficit in goods and services decreased to $35.4 billion in February, a $7.2 billion decrease from the January deficit of $42.7 billion, revised.
The decrease in the deficit reflects a decrease of $3.0 billion in exports and a larger decrease of $10.2 billion in imports.  February exports of consumer goods, at $17.8 billion, were the highest on record."  
According to The Hill, "While many think trade is the domain of big business, 98 percent of the 300,000 American companies that export are small and medium-sized businesses. These firms account for one-third of U.S. merchandise exports, according to the U.S. Department of Commerce. The number of small and mid-sized companies that export has nearly tripled over the past two decades." 
Find out the eight steps the government can do to help small businesses. And don't forget, failing is part of every success. "It took Thomas Edison years to get the light bulb right. Asked what it felt like to "fail' many times, Edison famously retorted, 'I have not failed 999 times.
I simply found 999 ways not to make a light bulb.'"
India is projected to be the third largest economy globally by 2050 and Canada now sees the country as a priority in the government's Global Markets Action Plan.  
As the Globe and Mail say, "For those Canadian small and medium-sized businesses (SMBs) prepared to step out of their comfort zone and take on more entrepreneurial risk, the potential rewards are substantial."
(requires quick free registration)
Are you creating compelling content on your websites, blogs and other social media platforms that pulls in customers? According to Francoise Henderson for Marketing Profs, "Some 93% of B2B organizations are using some form of content marketing, but less than half (42%) say they're effective at it." Why is that you ask? Read the article to find out and learn what else you need to localize existing content to appeal to a global audience.
Andrew Millard, senior director of international marketing at Citrix, discusses the increasingly globalized business world and how small companies can prepare themselves for international trade.
Some quick important positive international trade facts from the article: "Citrix and YouGov recently surveyed 2,000 small businesses across the UK and discovered that three quarters of them understand the significance of international trade, with an increasing number looking to expand into new markets. Six out of ten said they anticipate doing business internationally, a 20 percent increase on the number currently selling or sourcing products and services abroad.
A fifth also said they aim to increase the number of countries they trade with, with more than a quarter predicting increased revenue from international sales by 2016."