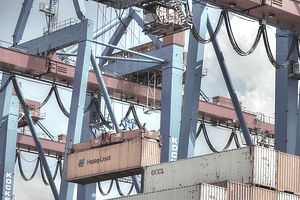 Has an overseas customer contacted you with interest to buy your product or service? Congratulations. You are on your way to expanding your business internationally. But what about for those of us who aren't so lucky and can't seem to get your business off the ground internationally? Even if you are short on time or have limited funds, these places will help you get primed for taking your business global.
1.  Export Assistance Centers
Export Assistance Centers (EAC) are located in major metropolitan areas throughout the United States and help businesses with exports. Find your local EAC here: sba.gov
Through email or an in-person visit, these folks assist in every aspect of the export process for Illinois businesses, from helping companies land new overseas opportunities to determining if an overseas inquiry is a scam. So reach out to them for counseling and even export financing ideas!
2.  Gold Key Service
The Gold Key Service (GKS)—through the U.S. Department of Commerce, U.S. Commercial Service—is one of the most efficient ways to meet with prescreened potential cross-border business associates, whether you are seeking an agent, a distributor or a joint-venture partner. Individual meetings are arranged, most taking place at the U.S. embassy in the host country. Many companies testify that this is a wise investment because you pay only for your airfare, lodging and entertainment and have a series of productive meetings already set up.
For those who are desperately seeking global expansion, you can't go wrong with speed dialing or emailing these folks for help.
To get started, visit Gold Key Matching Service:
https://www.export.gov/welcome
3.  International trade associations
To become a true global player, consider membership in an international trade association or organization.
Some are specific to industries or states such as International Trade Association of Greater Chicago (http://www.itagc.org), Customs Brokers & Forwarders Association of Northern California (http://www.cbfanc.org) and National Association of Foreign Trade Zones (http://www.naftz.org). These organizations help companies access the knowledge, tools and resources they need to take their business international.
For a quick list of international trade associations, visit: FITA Global Trade Leads (http://fita.org/members_dir.html).
4.  Transportation companies
It can't hurt to reach out to transportation companies such as DHL, FedEx and UPS to see where the bulk of international trade movements has been and on what types of products. These companies can't connect you with customers, but they can at least give you an idea of trade trends and offer assistance on transporting goods once you are in a position to do so.
5.  Global business intelligence companies
Global business intelligence companies can help you conduct global market research, track your competitors worldwide, acquire new sales leads and evaluate opportunities, including finding new sources of supply on a brand new product idea. My favorite four are:
Datamyne (http://www.datamyne.com)
Import Genius (http://www.importgenius.com)
PIERS (http://www.piers.com)
6.  Social media sites
Many social media sites—Facebook, Twitter and LinkedIn, for example—offer opportunities to target your advertising internationally. If you have a presence on these sites, it's worth considering to reach customers who you think will buy your products and services.
Facebook: https://www.facebook.com/business/a/online-sales/ad-targeting-details.
LinkedIn: https://www.linkedin.com/ads/
Twitter: https://biz.twitter.com/ad-products  
7.  Search engine consulting company
Last but not least, if you have a website and blog yet customers still can't find you online, consider contacting a good search engine expert to see how you might improve your search engine rankings. The goal is to have your key search words that describe your business be tied to you when people search online.
For example, my company's publishing platform, the Global Small Business Blog, has the key words "global small business."  When you type those three words, our blog comes up in the top three listings. That's what you should achieve for your business. But the question becomes—how? If your good colleague has a top-notch search ranking, ask her how she did it and then do the same. 
Don't think for a second that doing only one of the above in isolation of the others will bring you success on the international front. Try them all! That way, you are guaranteed to have at least one outreach effort work.
Photo Credit: Glyn Lowe Photoworks