The Rise of Integrated Project Delivery in Construction Jobs
What is this "IPD" that everyone's talking about?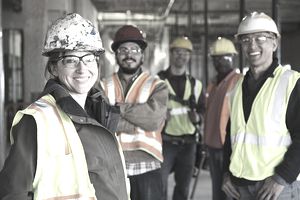 Once upon a time, traditional project delivery in construction meant that buildings were completed in a step-by-step way, each step being the responsibility of a particular provider or entity. Only a minimum of information was shared, and participants in the project sought to minimize their own risk – or preferably offload it onto another partner altogether. Cost was an overriding factor (whether or not the final construction was useful or profitable to the customer was less important).
Then tougher economic conditions meant that this traditional silo-oriented approach became less and less desirable. It was time for a construction management and project delivery rethink.
IPD for Shared Risk and Reward
The big change in integrated product delivery (IPD) compared to traditional project delivery (TPD) is that the project participants all share in the upside and the downside. In effect, they agree on an overall result to be achieved, instead of each team member simply delivering its 'chunk' of the project and then walking away. This, in turn, leads to:
Team motivation to deliver a construction project in less time and for less money, but also with greater value to the customer
Opportunities to use accelerated and lean construction techniques on an end-to-end as well as on a per-phase basis (thus increasing overall cost and time savings)
Concurrent construction project scheduling, instead of the linear scheduling limitations of TPD
Team formation early in the project, with ongoing involvement of the same team members over the project lifetime
A need for ease of collaboration and open information sharing
Software Tools and Resources for Integrated Project Delivery
Digital working suits IPD down to the ground. In fact, it would be hard to imagine effective large-scale open information sharing between project owners, architects and construction companies in a non-digital environment.
Cloud-based apps provide a practical platform for team members to work together, no matter where they are located. In addition, cloud working means that a construction project can be shared on a neutral basis, avoiding any suspicion that a particular team member might be trying to unduly influence or monopolize the project.
Software applications that can support IPD include:
Construction project management. Access to 'one version of the truth' allows project participants to see not only their individual tasks but also how they impact or may be impacted by the tasks of others.
Construction estimating. Transparent sharing of cost information makes it possible to work within the overall risk-reward agreement for the project, with the assurance that budgets can be inspected and approved by all parties.
Team collaboration apps. Mobile and desktop access help keep the project moving forward, whether team members are in their offices or out on site. Questions get answered sooner and problems and opportunities identified earlier.
Building information modeling (BIM). Up-to-date status information, a centralized data repository and visualization of the next construction phases are all potential advantages that BIM offers the team as a whole.
Where is IPD Being Used Today?
High-profile construction projects that have used IPD include:
Autodesk (makers of AutoCAD and AutoCAD LT software) AEC Solutions Division HQ, Massachusetts, US.
Cardinal Glennon Children's Hospital Expansion, Missouri, US.
Encircle Health Ambulatory Care Center, Wisconsin, US.
Early involvement, collaborative decision making, and shared risk and reward were features of each project.
Yet integrated project delivery and shared risk and rewards are not only available to bigger players or business construction projects. The same principles and approach can also be applied elsewhere too. Affordable cloud-based solutions make team project scheduling and collaboration accessible to small businesses and start-ups too. It's also worth noting that in some cultures, shared risk-reward is already an integral part of financing construction projects and other ventures whatever their size, rather than just providing a "hands-off" interest-bearing loan.