3 Steps to Step into Infrastructure Construction Jobs for Your Firm
Construction Management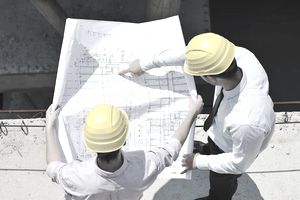 Infrastructure jobs have been a cornerstone of the recession recovery. Infrastructure accounts for 11% of national employment, largely in the construction industry. A new study called the 2015 Bottom Line Report from the American Association of State Highway and Transportation Officials notes that current demand for new infrastructure projects would require a $163 billion investment over six years.
This means that if you're in civil construction, infrastructure is probably your most lucrative game.
But competition is fierce and some firms aren't up to the task. Once you're sure that your firm can handle big jobs—with the right technology, right heavy equipment, and right people—consider these three steps to making your firm the most viable to attract land infrastructure jobs and beat out the competition.
Look in the right area
State investment in infrastructure is not evenly distributed across states. For example, the Brookings Institution found that construction firms were far more likely to find infrastructure jobs in Alaska, Louisiana, and Wyoming, where jobs relating to state infrastructure provide 12.7% of state employment, than Connecticut, Massachusetts, or Rhode Island, where jobs relating to state infrastructure provide less than 9.3%. (But construction firms should take note: if there's lower infrastructure employment, that may indicate that there is a need for construction work and the state doesn't have the right firms to complete the jobs.
While this reality is unlikely, it's worth exploring in your home state.)
These numbers reflect reality today—but not necessarily the future. When evaluating your home state, see which cities are planning to invest in their infrastructure over the next several years. Target high-growth areas, like Washington, DC or Atlanta, when planning your firm's marketing efforts—look for cities that will be offering a lot of projects over the next few years.
Bid wisely
Any construction manager knows that bidding is a huge chore. From estimating costs to writing up bids to waiting on the contract, bids are all-too frequently a bottleneck for many construction companies.  The best construction companies use construction bidding software as a part of their overall construction management software package to streamline the bidding process, reduce project costs, increase productivity, and win more bids. Best of all, this kind of software can help construction managers quickly assess which jobs are not worth pursuing whatsoever, preventing costly mistakes like overpromising and under-budgeting.
Work on your soft skills
Making the sale isn't all about the bid presentation, either. Take the time to develop confidence and high-level presentation skills. Practice your pitches in front of your friends, family, and coworkers.
Presentations just aren't for you? Don't be afraid to take the backseat while your most charismatic project manager or executive meets with stakeholders—letting go of that control might be difficult, but it may be worth it in the long-run.
And, in the same vein as long-term planning, you want your brand to be synonymous with quality and trustworthy construction.
This means ensuring that your company not only performs well on the first infrastructure job, but also creates lasting relationships with stakeholders (such as city officials). Make sure that your company has a formal follow-up plan for after the completed project, and start the bidding process before your current project is finished (so your relationship is still fresh). Those who hold the purse strings to infrastructure contracts tend to stay in place, so they are worth developing a relationship with.
More?
These are three of the most basic steps construction firms can take when prepping for infrastructure bids and jobs. Construction firms should make sure that they're in the right area, have a smooth bidding system, and have people in place who can create lasting relationships with stakeholders.