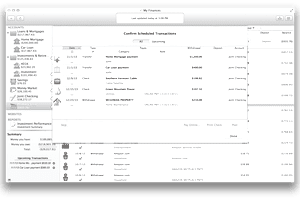 iBank 5 personal finance software for Mac was released in 2013 with a whole lot of new features and improvements that are worth mentioning. This was a full version upgrade for iBank 4 users. You'll need to Mac OS X 10.8 or higher to use this version, which is fully compatible with 10.9 Mavericks.
New Features and Improvements
Here's some of the great new stuff you'll find in iBank 5. A couple of upgrades here are huge steps forward when it comes to convenience.
It pays bills: iBank 5 connects via the internet to most major U.S. banks without leaving the software. Now payments can be scheduled and sent while transactions for payments are categorized in account registers.
It automatically updates transactions: Use Direct Access to connect to over 10,000 banks worldwide and sync with iBank for iPad 2. Direct Access is a subscription service.  
There's a new budget feature: The budget feature automatically uses scheduled transactions, at-a-glance daily progress updates, adjusts future budgets, and views history. You can sync budgets to iBank for iPad 2.
It can update everything at once: You can do less manual data entry or eliminate it entirely with the "Update Everything" button. This imports all account transactions ​updates stock and other investment prices and syncs iOS devices. There are also iPad and iPhone apps available. It downloads Direct Access data.
Other improvements were made for investment and loan support, data import from Quicken for Windows or Quicken Essentials and other personal finance software, new Resolve View with recent transaction activity, better filtering, enhanced speed, and many more significant tweaks.
How to Get iBank 5
Grab the 30-day, fully functional free trial at the IGG Software website.
After 30 days, you must pay for a license, but you can simply upgrade if you're using iBank 4. Use iBank 5 in free trial mode first, then upgrade to the new version.
You can add Direct Access to automatic transaction updates for $44.99 a year or $5.99 per month. This service is a real time-saver, especially if you have a lot of accounts. The annual cost comes out to just $3.74 a month.
More Recent Upgrades as of 2017
All the great features of iBank 5 still exist, but IGG Software has not been sitting idle since the release of this software. iBank 5 morphed into Banktivity sometime after its release, and Banktivity 5 was introduced in November 2013. Banktivity 6 was released in April 2017 and it provides fixes for numerous bugs that had riddled the Banktivity 5 software.
Both versions are available at the IGG website, although Banktivity 5 and iBank 5 are no longer available on other sites such as Amazon. Banktivity 6 costs $64.99 or $29.99 for an upgrade if you have a previous from a previous version. 
Banktivity 6 is only compatible with macOS 10.12 Sierra, but it offers some nice bells and whistles based on customer requests and includes all the features of iBank 5. Features include upgraded "Tags" to let you view your spending habits and "Quick Reports." "Workspaces," "Report Groups," "Find Features," and "Portfolio"—which monitors investments—are all new features included in this software.