Hurricane Irma: Facts, Damage, and Costs
Irma Damage Could Have Been $300 Billion If it Hit Miami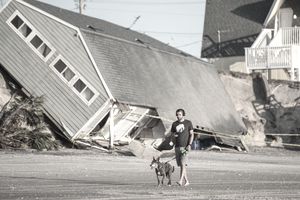 Hurricane Irma was the most powerful Atlantic hurricane in recorded history. It was a Category 5 storm when it made landfall on Barbuda on September 6, 2017. Its winds were 185 miles per hour for 37 hours. That's longer than any storm ever recorded. It beat Super Typhoon Haiyan, which maintained winds at that level for 24 hours in 2013.
Those winds extended 50 miles from the center. Tropical storm force winds extended 185 miles from the center.
Its coastal storm surges were 20 feet above normal tide levels. Hot ocean temperatures of 86 degrees Fahrenheit sustained the storm. 
Irma held 7 trillion watts of energy. That's twice as much as all bombs used in World War II. Its force was so powerful that earthquake seismometers recorded it. It generated the most accumulated cyclone energy in a 24-hour period. 
Irma's attack was the first time in 100 years that two storms Category 4 or larger hit the U.S. mainland in the same year. Hurricane Harvey devastated Houston on August 25, 2017. 
President Trump declared emergencies in Florida, Puerto Rico and the U.S. Virgin Islands. On September 6, Florida's Governor ordered residents of the Keys to evacuate.  
Timeline
September 6, 2017: Irma hit the Leeward Islands with winds over 180 mph. The Prime Minister of Antigua and Barbuda described Barbuda as "barely habitable."
September 7: Irma left hundreds in Puerto Rico without power.
It hit the northern part of Haiti and the Dominican Republic with 15 inches of rain. 
September 8: Irma remained a Category 5 hurricane with wind of 175 mph. It affected the Turks and Caicos Islands and eastern Bahamas. The storm passed over waters warmer than 30 degrees Celsius (86 degrees Fahrenheit.) That's warm enough to feed a Category 5 storm.
Barbuda's government issued a watch for Hurricane Jose. 
September 9: Irma affected the north coast of Cuba flooding Havana. Winds at 150 mph and waves at 29 feet. Wind gusts of 55 mph hit southeast Florida. Storm was downgraded to a Category 3 but was projected to regain strength before hitting Florida. 
September 10: Irma was upgraded to a Category 4. It hit Cudjoe Key, 20 miles north of Key West, and then Naples. Miami didn't get the core of Irma but still received life-threatening conditions. The Florida Keys received 12 inches of rain and a 10-foot storm surge. Rainfall averaged 10-15 inches. 
September 11: Irma downgraded to a Category 1 hurricane as it headed to Tampa. Almost 6 million people were without electricity. Irma was downgraded to a tropical storm as it hit Georgia. There were 1.5 million people who lost power. The state had ordered people to begin evacuating on September 9.
The Facts on Hurricane Irma's Damage
As of September 23, 2017, the death toll was 102 people, including 75 in Florida . Of those, 11 seniors perished in a nursing home that lost its air conditioning. Fourteen people died in the Florida Keys. 
Irma damaged 90 percent of the buildings on Barbuda. It destroyed almost all communication, and left 60 percent of the population homeless.
The government evacuated 300 citizens to Antigua.
Florida officials ordered 6.5 million people to evacuate.There were 77,000 people in 450 shelters. (Source: "Irma Downgraded to Category 1 Storm After Lashing Florida," The Wall Street Journal," September 11, 2017.)
The most rain in the state fell on Fort Pierce. It received 15.9 inches. The strongest winds (142 mph) hit Naples. (Source: "Hurricane Irma Live Updates: Storm's Winds Begin Battering Tampa Bay Area" The New York Times, September 11, 2017.)
Irma hit Miami with winds of 90 mph. Three cranes collapsed and streets flooded. Miami-Dade, Monroe and Broward counties' building codes have the nation's highest wind standards. They learned improved their preparation after Hurricane Andrew hit in 1992.  But that might not offer enough protection.
 "There's no structure in Miami that's built to withstand 185 mph winds," Keith Wolfe, president U.S. property and casualty for Swiss Re.(Source: "Major Hurricane Irma Likely to Deliver Destructive Blow to Florida this Weekend," AccuWeather, September 9, 2017.  "How Much Will Irma Cost Us?" Miami Herald, September 7, 2017.)
But 70 percent of the region's buildings were built before 1994. Many of them have not been retrofitted. Even high-rises built to higher wind codes will suffer from heavy rains that seep in through roofs. (Source: "Why Hurricane Irma Could Hurt a Lot," The New York Times, September 7, 2017.)
Early estimates put the impact to the economy at $100 billion. But damage could as high as $300 billion. That's according to insurance company Swiss Re. It calculated that insured losses from a Category 5 storm would cost between $60 billion to $100 billion. But only 60 percent of buildings are insured for such a large hurricane. (Source: "Accuweather Predicts Economic Cost of Harvey, Irma to Be $290 Billion," Accuweather, September 11, 2017."Hurricane Andrew: The 20 Miles That Saved Miami," Swiss Re Insurance Company, 2017.)
Swiss Re estimates the housing value in Miami-Dade, Broward and Palm Beach counties is almost $660 billion. Commercial real estate is worth $550 billion.
Irma threatens $1.2 billion in Florida's produce crops. The state is America's second largest grower of vegetables like tomatoes, green beans and cucumbers. The potential shortage pushed orange juice futures and sugar prices higher in the days leading up to the storm. The damage to prices could last for months. If Irma hits Georgia and the Carolinas, it will affect corn, soybeans, cotton and peanut prices. (Source: "Hurricane Irma Threatens $1.2 Billion of Florida Crops," Bloomberg, September 7, 2017.)
Three Ways Global Warming Made Irma Worse
Global warming contributed to Irma's impact in three ways. First, rising sea levels made flooding more likely. The sea levels around Florida is rising six times faster than average Most of that is because of El Nino and other regional variations. But global warming aggravates these natural cycles.That's because warmer temperatures have melted the ice caps in Antarctica. They are shrinking at 1.6 meters per year, compared to 3.8 centimeters annually before 1992.
Second, the South Florida's average August 2017 temperature is four tenths of a degree above normal. Florida's average temperature from January through April 2017 was the warmest during that period on record. The 2016 season was the warmest since 2010 in South Florida, and seven of the past 10 summers have been above normal.
Warmer air holds more moisture, so it's less likely to rain. But when it does, the water falls in buckets. That makes for greater rainfall during a hurricane.  (Source: "Miami Is Expecting a Hotter Than Normal Summer Again," Miami Herald, May 23, 2017.  "Earth Flirts with a 1.5-Degree Celsius Global Warming Threshold," Scientific American, April 20, 2016.)
Third, global warming slows weather patterns. That allowed Irma and other storms to move much slower than normal. They had more time to wreak damage.
How Irma's Damage Compares to Other Natural Disasters
Irma's size and strength destroyed whatever was in its path. It was Category 5 with 185 mph winds and storm surges bringing waves 20 feet higher than normal tides. That would significantly impact Miami. The sea level is rising 3.4 millimeters a year due to global warming. Since 1992, its risen 3.34 inches. That means Miami Beach now floods during "king" tides. That three inch increase doubles the cost of damage from hurricane-related storm surges, according to Swiss Re estimates. (Source: "Hurricane Andrew: The 20 Miles That Saved Miami," Swiss Re Insurance Company, 2017.)
Hurricane Katrina cost from $160 billion. It was a Category 3 hurricane that flooded New Orleans. Most of the damage was caused by storm surges that overwhelmed the levee system. 
Hurricane Harvey cost $125 billion. It was a Category 4 hurricane that dropped more than 50 inches of rain. The resultant flooding covered two-thirds of Houston, Texas. Hurricane Maris is the third worst, creating $90 billion in damage in Puerto Rico. Hurricane Sandy hit New York and New Jersey in 2012. It left $65  billion in damage.
Hurricane Irma is the fifth most costly storm at $50 billion. Compare Irma to the 20 most destructive hurricanes in U.S. history.