Human Resources and Management Acronyms
Get to Know the Abbreviations That Are Used in HR and Management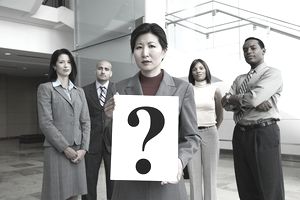 Have you ever spoken to a Human Resources practitioner and had trouble understanding various portions of the conversation? Learning and understanding Human Resources acronyms and abbreviations is a challenge.
As in any other occupation, people familiar with the field start talking in abbreviations because it's easy and familiar—and it becomes a habit.
Human Resources practitioners can sound as if they are speaking a different language—and if you're not an HR practitioner with experience—they probably are.
The acronyms they use are common to the initiated, uncommon to people new to the field and to students who are learning the field. HR acronyms require a learning curve just as HR jargon or HR speak requires a learning curve and familiarity with the field.
Manufacturing employees have their own jargon. They work in QC (quality control) teams that use EI (employee involvement) to engage employees in problem-solving.
Keep in mind that Human Resources and management acronyms and jargon annoy and alienate non-HR employees. With this in mind, the following acronyms are common in HR.
A
AAP: Affirmative Action Plan
AARP: American Association of Retired Persons
ABM: Activities Based Management
AD&D: Accidental Death & Dismemberment
ADEA: Age Discrimination in Employment Act
ADL: Activities of Daily Living
AE: Account Executive
AFL-CIO: American Federation of Labor and Congress of Industrial Organizations
AFSCME: American Federation of State, County, and Municipal Employers  
AJB: Americas Job Bank
ANSI: American National Standards Institute
AP: Accounts Payable
APR: Annual Percentage Rate
AR: Accounts Receivable
ATD: Association for Talent Development (formerly ASTD: American Society for Training and Development)
AWOL: Absent without Leave
B
B2B: Business to Business
B2C: Business to Consumer
BA: Bachelor of Arts
BBB: Better Business Bureau
BCP: Business Continuity Plan
BS: Bachelor of Science
BC/R: Benefits Cost/Ratio
BLS: Bureau of Labor Statistics
BOD: Board of Directors
BU: Bargaining Unit
C
CCL: Center for Creative Leadership
CCP: Certified Compensation Professional
CEBS: Certified Employee Benefits Specialist
CEO: Chief Executive Officer
CFO: Chief Financial Officer  
CHRO: Chief Human Resources Officer
CIO: Chief Investment Officer, Chief Information Officer
CMO: Chief Marketing Officer
COO: Chief Operating Officer 
CSO: Chief Security Officer
COB: Close of Business
CEU: Continuing Education Unit
CAI: Computer Assisted Instruction
CBT: Computer Based Testing
CTO: Compensatory Time Off
CPE: Continuing Professional Education
COLA: Cost of Living Adjustment
CV: Curriculum Vitae
D
DOB: Date of Birth
DOI: Date of Injury
D&O: Directors and Officers
DB: Defined Benefit
DBPP: Defined Benefit Pension Plan 
DCPP: Defined Contribution Pension Plan
DOJ: Department of Justice
DOT: Dictionary of Occupational Titles, Department of Transportation
DW: Dislocated Worker  
DBA: Doing Business As
DINKS: Dual Income No Kids
DRP: Disaster Recovery Plan
E
EBT: Earnings Before Tax
EBSA: Employee Benefits Security Administration
EBO: Employee Buyout
EDT: Electronic Data Processing, Employee Development Plan
EE: Employee
EIN: Employee Identification Number
EPLI: Employment Practices Liability Insurance
ERISA: Employee Retirement Income Security Act
ESO: Employee Stock Option
ESOP: Employee Stock Option Plan
EOD: End of Day
EOY: End of Year
EEO: Equal Employment Opportunity
EPA: Equal Pay Act, Environmental Protection Agency
F
FCRA: Fair Credit Reporting Act
FEP: Fair Employment Practice
FEIN: Federal Employment Identification Number
FUTA: Federal Unemployment Tax Act
FSA: Flexible Spending Account (Healthcare)
FAQ: Frequently Asked Questions
FT:  Full Time
FTE: Full-Time Equivalent
G
GATB: General Aptitude Test Battery
GED: General Equivalency Diploma
GPHR: Global Professional in Human Resources
GTL: Group Term Life Insurance
H
HMO: Health Maintenance Organization
HCE: Highly Compensated Employee
HCM: Human Capital Management
HPT: Human Performance Technology
HR: Human Resources, Human Resource
HRCI: HR Certification Institute
HRD: Human Resources Development, Human Resource Development
HRMS: Human Resources Management System
HSA: Health Savings Account
I
IRS: Internal Revenue Service
J
JD: Job Description, Juris Doctorate
JTPA: Job Training Partnership Act (Now the Workforce Investment Act of 1998.)
OA: Joint Operating Agreement
JSSA: Jury Selection and Service Act
K
KPI: Key Performance Indicator

KPM: Key Performance Measures

KSA: Knowledge, Skills, or Abilities
L
LOS: Length of Service
LMS: Learning Management System
LR: Labor Relations
LTC: Long Term Care
LWOP: Leave Without Pay
LWP: Leave with Pay
M
M&A: Merger & Acquisition
MBO: Management by Objectives
MBTI: Myers-Briggs Type Indicator
MHPA: Mental Health Parity Act
MOP: Measure of Performance
MQ: Minimum Qualifications
N
O
OSHA: Occupational Safety and Health Administration
OOH: Occupational Outlook Handbook
OPM: Office of Personnel Management 
OMB: Office of Management and Budget
OJT: On-The-Job-Training
OCF: Operating Cash Flow
OE: Operating Expense
OI: Operating Income
OD: Organization Development
OT: Overtime
P
PA: Performance Assessment
PERT: Project Evaluation and Review Technique
PT: Part Time
PM: Performance Management, Project Management
PPO: Preferred Provider Organization
PHR: Professional in Human Resources
P&L: Profit and Loss
Q
QR: Quarterly Review
QWI: Quarterly Workforce Indicators
R
RIF: Reduction in Force
RPA: Retirement Plan Alternative
RTW: Return to Work
S
SBA: Small Business Administration
SE: Salaried Exempt
SNE: Salaried Non-exempt
SME: Subject Matter Expert
SPHR: Senior Professional in Human Resources
SSA: Social Security Administration
SWOT: Strengths, Weaknesses, Opportunities, and Threats
T
TM: Talent Management
T&D: Training and Development
TBD: To Be Determined
TDA: Tax Deferred Annuity
TDB: Temporary Disability Benefits  
TESSA: Tax-Exempt Special Savings Account
TEUC: Temporary Extended Unemployment Compensation  
TL: Time and Labor
TPA: Third Party Administrator
TPD: Temporary Partial Disability
TTD: Temporary Total Disability
TSA: Tax-sheltered Annuity
U
UAW: United Auto Workers
UCI: Unemployment compensation insurance
UFW: United Farm Workers
UGMA: Uniform Gifts to Minors Act
UIC: Unemployment Insurance Commission
UN: United Nations
USC: United States Code
USCIS: U.S. Citizenship and Immigration Services
U. S. DOJ: United States Department of Justice
U.S. DOL: United States Department of Labor
USERRA: Uniform Services Employment and Reemployment Rights Act
V
VA: Veterans Administration/Affairs  
VETS: Veterans Employment and Training Service
VP: Vice President
VPN: Virtual Private Network
VOC-REHAB: Vocational Rehabilitation
W
WARN: Worker Adjustment and Retraining Notification Act
WC: Worker's Compensation
WIA: Workforce Investment Act
WIP: Work in Progress
WTO: World Trade Organization
WTW: Welfare to Work
W-2: Income tax form issued by employers
W-4: Federal income tax withholding form
WPS: Work Performance Standards
X
XRA: Expected Retirement Age
XTML: Extensible Markup Language (Code)
Y
Z
ZBB: Zero Based Budgeting