HR Best Practices for Communicating Benefits Using Email
Employee Benefits Email Communication Guidelines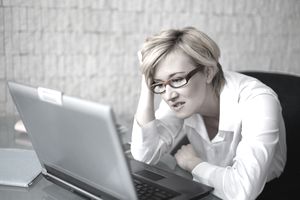 We live in a modern world where information zips around the globe from one person to the next in just seconds. Electronic mail (email), text messaging, and virtual meetings have replaced telephone and snail mail communications in most companies. Even the human resource department is more apt to send out a quick email to broadcast an important update to multiple people at once because of its efficiency.
A recent study by Adobe indicates that millennials, the large group of employees in the workplace now, prefers email communications. Therefore, having a plan to communicate important employee benefit updates is a must. 
5 Ways to Get More from Benefits Communication with Email 
There are still some steadfast rules that apply when sending out employee benefit information via email and other forms of digital communications. These rules are designed to accomplish two things:
Ensure the safety of personal health information (PHI) of anyone involved
Provide clear communication about employee benefits for the end reader
To help your HR team effectively use email for communication benefits data, here are some best practices to put into place now.
#1 – Know specifically what you want to communicate by email
One of the primary goals of communicating benefits via email is to get information out to many people at once without sacrificing a lot of time.
However, it's important to understand what exactly you need to communicate by email. Remember that the recipients of the email will likely spend about 10 seconds or less reading it. Make this count by creating a focused campaign that is geared towards one particular message. Keep information concise and limited to a central idea.
If you have more to cover, send it out in a follow up email so people actually take the time to read it. Also, before you send out an email, understand if the message is best delivered by email or if some other format is needed. Some people respond better to other forms of communication. 
#2 - Use proper email etiquette and grammar
It should go without saying, but as a benefits communication expert, you should always use the best possible grammar and email etiquette. Use an eye-catching email subject line. Use a blind-copy when sending out the email to a large number of employees at once, to protect personal email addresses. Start with a simple format for your email that includes a greeting, a brief introduction sentence, supporting details, and a wrap up sentence that includes a call-to-action (if needed). Use bolding for deadlines or dates, and include the full URL of any enrollment links because some email providers will not translate this well to recipients. Attachments may end up in spam, so use them sparingly. Give employees the information that is pertinent to what the email message says. 
#3 – Add another level of communication to the effort
Keep in mind that emails are largely ignored by consumers, because of the sheer number of them received daily in millions of inboxes daily.
Also, understand that people often need to hear a message in several different formats and multiple times before acting on them. As the benefits communicator, you'll want to use multiple forms of communication to convey any important messages to employees. Think of your communication strategy as having multiple layers. Videos, written materials, postcards, and other medium can reach employees. Make all communication accessible for those who may have handicaps or language barriers. 
#4 – Provide easy to read visuals to support your message
In addition to the digital communications you issue, be sure to promote important benefit events and deadlines with onsite marketing visuals. For example, if open enrollment is approaching, start putting up posters in areas where employees can see them that talk about this time.
Another example could be promoting the corporate wellness program with posters and flyers that speak about healthy lifestyles. Continual awareness and education of benefits using visuals and marketing tools like posters, flyers, and video information are what makes benefits communication more effective. Center the marketing around the needs of employees, their health concerns, and the value of the benefits the company provides. 
#5 – Give employees all the information they need to get more support
One of the issues that occur in benefits emails is that critical information is left out, unintentionally, by the person sending it. Omitting contact information, benefits phone numbers, and a link to find more details about benefit plans or rates is never a good idea. Be sure to proof the email and think about reading it from the reader's perspective. At the very least, be sure to include information about who to contact with benefit questions and a website address where readers can obtain more information. 
Benefits communication just happens to be one of the many factors that an email message can serve, but be wise before leaning on this form of messaging all the time. Mix things up and use the tips above to get the most out of your employee benefits communication efforts. 
Image Credit: Fotolia