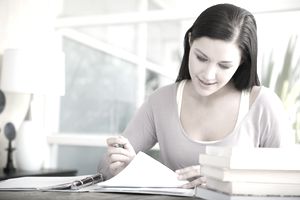 Crafting effective letters are an important part of your working life, whether you're job hunting or making connections to help grow your career. At some point you'll need to compose not the basic cover letter, follow up and interview thank you letter, but also a reference letter and resignation letter. Here's how:
Job Search Email
It's important for your email communications to be just as formal and professional as if you were writing an old-fashioned paper letter.
Here's everything you need to know about job search email etiquette including what to include in your emails, formatting, and how to make sure your email message is read.
Writing Effective Cover Letters
Writing an effective cover letter is the first step in grabbing a prospective employer's attention en route to securing an interview. According to Monster's resume expert Kim Isaacs, job seekers often make the mistake of using their cover letter to express what they're looking for instead of speaking to the employer's needs. Review the essential elements to craft a successful letter.
How to Write an Interview Thank You Letter
Writing a thank you letter or email after an employment interview is a must. In fact, some employers think less of those interviewees who fail to follow-up promptly.
Writing Follow up Letters
If you've sent a resume to a company you'd like to interview with and you haven't heard back right away, what do you do next?
What do you write? Here's advice on composing a follow-up letter.
How to Write a Resignation Letter
How you write a resignation letter is important, because it usually isn't easy to resign and stay on good terms with the company you are leaving. Even if you hate your work and can't wait to start your new job, it can be difficult to resign diplomatically and tactfully.
Well-written resignation letters can help ensure your resignation goes smoothly.
How to Write a Reference
Almost everyone is asked to write a reference letter at some time during their career. Whether it's for an employee, a friend or someone you've worked with, here's how to compose an effective letter of recommendation.
Review Sample Job Letters and Templates
When you're writing job letters, it's helpful to use a template--you can copy and paste the letter, then edit it to personalize with your own information. It's also a good idea to review letter samples. That way you can see what well-written employment letters look like and spark ideas for writing your own.