How to Use Social Media to Grow Your Restaurant Customer Base
Connect With Customers and Increase Restaurant Sales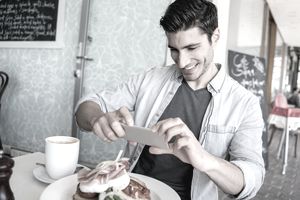 Everyone knows how important social media is for business. It offers a way to connect directly with customers and encourages viral conversations about how good (or bad) a restaurant is.
One of the biggest areas where I see independent restaurants fall down is with their social media campaigns — or lack of. Sites like Facebook and Instagram are MADE for restaurant marketing; they offer the perfect platform for showcasing scrumptious photos of menu items and cocktails.
They are a FREE place to advertise specials and upcoming events. And most importantly, social media is where everyone hangs out. Yes, some people still read the newspaper and watch TV commercials, but the majority are on some type of social media site. If your restaurant isn't taking advantage of all that social media has to offer, you are missing out on potential customers and sales.
The biggest obstacle most restaurant owners face when considering a social media campaign is time and knowledge. As a restaurant owner, you're already taxed to the limit trying to manage staff, orders, schedules, budgets and so on. The last thing many owners want to deal with is snapping food photos for Instagram or composing a witty Facebook post. It is easy to see why this type of marketing falls low on the list of priorities at many restaurants.
Many restaurants owners don't like social media because they don't understand it.
If they themselves don't use Facebook or Snapchat or Twitter, how can they be expected to market with it? And even if they are social media, many owners won't know the best strategies for using social media to connect with customers. Luckily there are lots of free resources and courses available if someone wanted to learn the basics of using social media to market their small business.
Like any skill, the more you use it, the better you'll be at it.
Some basics I want to touch upon in this article can help even the most novice Facebook user or Inger use social media to the best of their ability.
Use Beautiful Images
You're in the food business. Your job is to create delicious looking food for customers. This means you have hundreds of photo ops all day long. Take some good quality photos. And by good quality I mean good lighting (not under the florescent kitchen lights that make even vegetables look greasy). Go outside if you have to. Equally important is a pretty presentation. Some food photographs better than others. A nice steak, a leafy green salad, a decadent dessert — all model quality. A bowl of clam chowder or pile of risotto are harder to make into a pretty picture. Select items that are easy to photograph. Arrange them nicely on a serving dish and add a little garnish (remember — you should be doing all of this with or without the camera). Snap a few photos in good lighting and edit them as needed.
You don't need a fancy DSLR camera for good photos. If done in good lighting (again,not on the kitchen line), at a good angle, your smartphone or iPhone will be just fine.
Remember, these photos are for Facebook or Instagram or your website — they don't need to be high resolution, magazine quality. For editing photos on a phone, you can use the built-in editor attached to your phone's camera. You can also use the free Instagram filters which make colors pop and make food look more enticing.
Post Content on Social Media Consistently
Another big factor in building a strong online reputation for your restaurant is consistency. Posting every day, or even a couple times a day, will keep you on your customer's radar, without being annoying.  Get into the habit of posting your daily lunch specials and dinner specials — soon customers will start to look for your specials as they make lunch or dinner plans. And be sure to add a photo of your menu items to each post! 
Along with specials and food photos, other content you can share on social media include events from other local businesses or organizations, funny photos or memes that relate to restaurant life, recipes (yours or someone else's), candid photos of your staff having fun, or customers enjoying a meal (with their permission, of course).
Follow Other Businesses on Social Media
Another strategy for growing your customer base on social media is connecting with other area businesses and organizations. You can like other businesses on your Facebook restaurant page (versus  your personal profile page) by selecting the 'More' option under the business cover photo. It will give you the option to "like as your page." This makes it easier to share other businesses' posts and events on your restaurant page. It will be appreciated and they are likely to return the favor, sharing your posts with their followers.
On sites like Instagram, Twitter, or Pinterest you can set up a separate business profile for your restaurant and follow other area businesses.
Include a Call to Action in Your Social Media Posts
A call to action encourages followers to do something after reading the post. You may ask them a question, like "Tell us what your favorite sandwich is, in the comments below!" Or you can encourage them to sign up for your newsletter or RSVP for a special event. The point of a call to action is to make customers feel included as part of your business. When you ask them their opinion or to share something about themselves, they feel special and included. Bonus points if you can answer comments and replies on your page to customers.  For example, if someone says their favorite sandwich is a Tuna Melt you can answer with "Thanks for sharing. Do you like it on white or wheat?"
Don't Be Afraid of Negative Comments
One of the reasons that some restaurant owners stay away from social media is that they are afraid of customers complaining in such a visible forum. After all, a negative comment on Facebook is going to reach a much wider audience than a negative comment left on a paper comment card. Instead of being afraid of complaints, you can view them for what they are — opportunities for improvement. Be sure to address complaints quickly (within 24 hours) and in a positive manner. For example, if someone complains their steak was overdone and overpriced, you could reply along the lines of "Thank you for letting us know. We strive to provide the best service for all our customers. Please PM (private message me) so I can send you a discount for your next meal with us." Angry customers may not show forgiveness right away, but eventually, there is a good chance they will come back, if you show that you are genuinely concerned and value their input.
When done right, social media offers restaurants a low cost way to connect with customers and build a loyal fan base. Simple things like good photos and consistent posting will help build a restaurant's online reputation and bring in more sales.