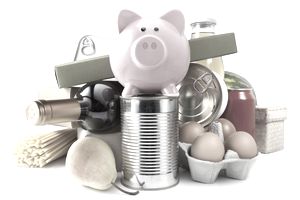 If you are looking for simple ways to save money during tough economic times you may want to look at the three categories that are the easiest to overspend in. You can also look for creative ways to lower your utilities. Most people can easily save money on their food, entertainment, and transportation budgets without too much work. Trimming your spending in these three categories can make a big difference in your budget's bottom line, and may not take as much effort as you think it will.
If you save enough, you may even consider some of these ideas for handling the extra money in your budget. 
Trim Money on Your Food Category
Your grocery budget is one area where it is easy to trim money. If you eat out a lot, you can save two or three hundred dollars a month, by cutting back on how much you spend each month. You can also save money by cooking more from scratch each month. If you struggle with making food each night when you get home from work you have a few options available to you. You can make meals on the weekend and freeze dinner size portions to eat. If you make three meals on Saturday, with two portions for each you can rotate through a variety of meals through out the month.
Try Forming a Food Co-Op
Another option is to form a food co-op. This could happen in several different ways. You could gather together at each other's homes a few nights a week, and eat dinner together.
The host would cook the meal, and then eat at the other's homes later on in the week or month. This allows you to cook larger portions, which is less expensive and gives you a good variety of food to eat each month. Another way to do this is to have a meal exchange. You cook several batches of the same meal, and exchange them with the people in your group.
Plan a Monthly Menu
Changing the way that you plan your meals and shop will make a big difference in how much you spend each month. Take time at the beginning of the month to write out a menu that you plan to follow. You can use food in your pantry, as well as look at the sales papers to do this. If you use the meat you currently have in your freezer you can take advantage of sales on the meat in the next month.
Shop Sales and Buy in Bulk
Bulk buying can save you money, and you can split the item and the cost with a friend or roommate to take advantage of the savings. You may want to look at different stores to shop at as well, so that you can Using a list, shopping the sales and using coupons are all easy ways to save money on your groceries. Just remember that spending a little extra on a mix or easy to prepare meal is still cheaper than buying ingredients for a meal you will not make and you still end up eating out.
Trim Transportation Costs
Transportation costs can take a big portion of your budget, especially if you have a car payment. You need to carefully consider all areas of transportation costs when you are looking at trimming this section of your budget. You need to consider your car payment, your insurance costs, your gasoline costs and your maintenance costs. If you live in the city you should also consider your parking costs as well as public transportation costs.
Look at Your Car Payment
First, you may want to look at trimming the amount that you spend on your car each month.
You do not want to own more than half of your annual salary in cars. If you are you are spending too much. You may want to consider downgrading your cars to something more affordable. You can get good reliable cars, trucks and vans for $10,000 or less. Buying a brand new car is foolish, because a new car depreciates in value so quickly. If you need to, you can sell your car while you still owe money on it.
Find Ways to Save on Gas
Another area to consider is the amount that you are spending on gas each month. Look into taking public transportation, car-pooling or buying a more fuel-efficient car to take to work. For example it makes more sense to drive a small compact to work then it does an SUV. If you have more than one car per family then you may want to consider who has the longer commute and have that person use the most fuel-efficient car.
Get Discounts on Your Car Insurance
You can also save money on car insurance by shopping around for a new policy every few years.
Most people find an insurance provider and stick with them, even when they raise the rates each year for no reason. Shop around online or by calling every other year, and you may be surprised at how much you can save. Be sure to take advantage of alumni, good driver, and employee discounts that you may have available to you.
Perform Regular Maintenance
Finally, maintaining your car with regular oil changes and tune-ups can help you get the most out of your car. This will help your car to run at the best fuel efficiency available, as well as extend the life of your car, which will save you money as well. Simple things such as having the correct tire pressure in your car will make a big difference as well.
Trim Entertainment Costs
Entertainment is one area that spans a variety of different types of spending. This is one category that can use a lot of your available money. It is important to realize all the things that would fit into this category when you truly begin to look at your spending habits. There are the obvious areas that you spend money on entertainment, like going out to the movies, attending a concert or eating out.
There are not so obvious areas that you spend money as well. These can include gamer subscriptions (like World of Warcraft), buying video games, books, CDs, iTunes downloads, cable and internet subscriptions (unless you are required to have this for your job).
Determine How Much You Spend Each Month
You need to figure out how much you spend on entertainment in a month. This number may surprise you, especially once you factor in your cable bill, and any other monthly bills that you may not originally include in your entertainment category. Next, you need to decide a number that you are comfortable spending on your entertainment category. While it is important to have some sort of entertainment, it should not stand in the way of your other financial goals. If you are spending more than ten percent of your monthly budget on entertainment each month, then you do need to but back. You may want to cut back more than that if you are working towards a specific goal.
Cut Back on the Amount That You Spend
You should try to trim your spending in all of your entertainment categories. This means you can cut back on your cable package or cancel cable completely and set limits on the amount you download from iTunes each month. These smaller cutbacks mean that you still have money to spend on the categories that mean the most to you, but you are not spending as much overall.
You may find that you willing to completely cut some types of spending in order to have more money available in the categories that are the most important to you. You can still have fun, you may want to try looking for fun frugal activities in your area. 
Look for Cheaper Alternatives
You can look for less expensive alternatives that still allow you to do the things that you enjoy the most. A subscription to Spotify for example gives you access to new music and albums and may make it easier for you to stop buying new albums when they come out. You can also choose to go the second run theater or eat out at lunch when the menu is less expensive. Try looking for Groupon or similar deals that let you do the things you like for less money.
Look for Free Options
There are also free entertainment options available. Try hiking or camping for your weekend trips. Look to see if there are free movie showings available in your city at the park. Check for music festivals or activities that your town is putting on for free. You can save money by doing these things without spending much money at all.