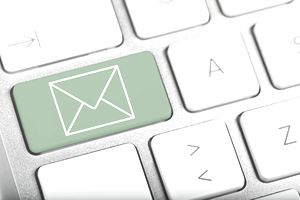 When you are using email to job search or network, it's important to include a professional email signature with all of your contact information. This makes it easy for hiring managers and recruiters to get in touch with you.
An email signature appears at the bottom of every email, and includes all of your important contact details. It includes much of the same information that you would include at the top of a typical business letter.
In a business letter, you include your name and contact information at the top of the letter. You do not include this information at the top of an email. Instead, it goes in your email signature.
Read below for advice on what to include in your email signature, and how to set one up on your email account.
What Should You Include in an Email Signature?
First, make sure that the email account you are using for your job searching is a professional one. You should have a simple, professional email handle such as "FirstnameLastname@gmail.com" or "Lastname@gmail.com."
At minimum, an email signature should contain your full name, your email address, and your phone number, so that hiring managers can see, at a glance, how to contact you.
You might also include your current job title, and the company you work for, and your full address.
Including a link to your LinkedIn profile is a good way to give the hiring manager more information on your skills and abilities.
You can also add a LinkedIn button to your email signature. If you're using Twitter for job search and/or career-related purposes, you can include a link to your Twitter account. For applicants in creative fields, such as writers or designers, a link to an online portfolio can also be included. If you have your own professional website, consider adding this.
Be wary, however, of including too many links in your email signature. Before you add every possible URL where you appear online, consider where you'd most like people to click. If your LinkedIn profile encapsulates your career history best, use that. If your Twitter feed showcases career-related skills (e.g., marketing abilities), a link there may be more meaningful.
There are also things you should typically avoid in an email signature if you are sending emails related to your job search. For example, some people include inspirational quotes in their signatures. While this is fine for personal emails, this is not professional enough for a job email. Leave this out of your email signature.
Sample Email Signatures
See a variety of email signatures below. All of these would be appropriate to use when job searching.
When using these examples, be sure to change any information so that it fits your personal circumstances.
Sample Email Signature
FirstName LastName
Email Address
Phone
Cell Phone
Sample Email Signature With Full Address and Employment Information
FirstName LastName
Marketing Director, ABC Company
Street
City, State, Zip
Email Address
Phone
Cell Phone
Sample Email Signature With LinkedIn
FirstName LastName
Email Address
Phone
Cell Phone
LinkedIn Profile (Optional)
Sample Email Signature With Twitter
FirstName LastName
Email Address
Phone
Cell Phone
LinkedIn Profile (Optional)
Twitter Account (Optional)
How to Set Up Your Email Signature
Each email server has different steps you must take to set up your email signature. Typically you can click "Settings" on your account, and find a tab that tells you how and where to add a signature.
Once you add a signature, this should automatically be added to all of your outgoing messages. This means you do not actually have to write in the signature every time you send an email – it will automatically be added to the end of your email.
Job Search Email Etiquette
Job search email etiquette, including what to write in your job search emails, how to format your email, how to make sure your email message is read, and sample job search email messages.
Read More: How to Set Up an Email Account for Job Searching