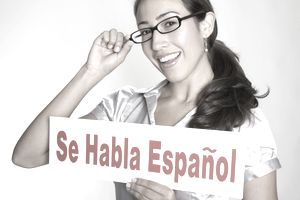 If you are bilingual, your prospects for employment are higher than average.  Many employers are actively recruiting bilingual Spanish applicants, especially in locations with large Hispanic populations.
With some companies, job seekers can complete employment applications in Spanish. With other employers, you will need to search for jobs that request bilingual applicants and apply in English.
Review information on how to use your Spanish skills to get hired, where to look for companies that are recruiting bilingual workers, and which search terms to use to find jobs that are the best match for your background and skills.
Employment Outlook for Bilingual Job Seekers
Jobs where bilingual language skills are an asset include interpreters and translators, which are expected to increase 18% by 2018. In addition, bilingual employees are needed in education, banking, hospitality, retail, customer service, and federal and state government jobs.
How to Get Your Application Selected
When you're looking for jobs you'll find positions you can apply for that require bilingual applicants or where being bilingual is preferred or helpful. This information will be specified in the job posting.
Be sure to include your language skills in the skills section of your resume and in the job applications you fill out, so your application gets noticed by hiring managers and by the applicant tracking systems employers use to screen applicants.
How to Search for Bilingual Spanish Jobs
The job search engines are a good way to find bilingual job listings.
When you use the Advanced Search options you'll be able to search by type of position and location and narrow the results to include only job listings where bilingual applicants are encouraged.
Search for Bilingual Spanish Jobs on Indeed.com:
Use Indeed.com's main search page to search by keywords (one at a time) "spanish" "espanol" "bilingual" or "bilingual spanish" and your location.
Search for Bilingual Jobs on LinkUp.com:
Click on Advanced or go directly to LinkUp.com's Advanced page. Enter keywords (one at a time) "spanish" "espanol" "bilingual" or "bilingual spanish" in the keyword box. Enter your zip code. Select job tags if you are interested in a specific type of position. Click Search Jobs.
Search for Bilingual Jobs on SimplyHired.com:
Enter keywords (one at a time) "spanish" "espanol" "bilingual" "bilingual spanish" and your location (city, state or zip code) on SimplyHired.com
Click on Search All Jobs.
Bilingual Job Sites
Also check the job sites that specifically list jobs for bilingual Spanish-speaking applicants. Here are sites that include bilingual Spanish jobs, Spanish-speaking job listings, job search advice for bilingual applicants, and job application tips.
Bilingual Job Search