How to Reduce Construction Printing Costs
Construction companies run through paper. Let's stop that practice today.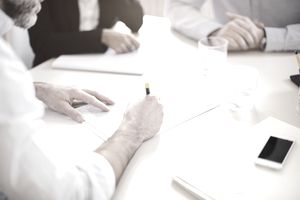 If you're in your office right now, stop what you're doing and take a look around. Specifically, take a look at your desk. Now think about what you see. Is there a huge pile of papers on one corner – important papers like invoices, contracts, and project updates?
Before you get defensive; we get the whole "organized chaos" concept that you've likely got going on with your desk. All those papers – the LEED forms, the RFDs, applications, and more – have a place where they belong.
They all need to be managed before being filed. Some need to be signed, others need to be scanned in, still others need to be processed and sent out to your clients.
So let's just cut to the chase: If your office is a mess, it's causing problems. The good news is: There's hope for you yet.
Solutions for "Document Overload"
If anything we've brought up so far applies to you, don't worry. You are in good company. These are common problems among construction managers. Luckily there is construction management software available to you that does an excellent job of solving the vast majority of them.
Good construction management systems feature a huge number of options for document management, and these solutions serve a number of useful purposes. They can help you locate forms and documents quickly and easily, which reduces the amount of time you spend filling out (read: "finding") all your paperwork.
The time you save can be used to up your visibility with customers and focus on the actual productive portion of your job. 
It's Time to Get Organized
The single most important feature of document management software is the ability to keep your important files organized. It eliminates the need to ferret through huge file cabinets or piles of papers on your desk.
You simply plug the document you're looking for into the software's search engine, and it appears almost instantly.
The software can also help you upload existing files, allowing you to easily differentiate between past files physically sitting in a file cabinet and those already added into your software system. With many applications, you are also able to access documents via cloud storage, providing you access to your files on the go. Cloud-based construction document management is a smart choice considering its ability to help you process paperwork faster and with a greater level of efficiency.
Two software solutions that do this are Viewpoint and Aconex. Both are built on search systems similar to Google's algorithm, making the search process lightning fast. Viewpoint sets itself apart with the addition of the ability to search and index emails via Outlook that are also attached to Vista.
Superior Collaborative Options
Construction document management software makes it easier to work with your team. For example, the Construction Management Tool by Procore lets managers dole out permissions by user. It stores earlier versions of your files but also has safeguards in place that consistently share the same drafts of files so users don't make the mistake of editing the wrong versions.
Better still, it works with most major mobile and desktop platforms, which is good news for companies that use iPads and other tablets as part of their management system.
Economical Solutions
The ways that good construction document management software can save money for your business are plenty. The more obvious ones include the drastic reduction in need for supplies like toner, paper, photocopying, and physical filing units. Even more than that, it can save multiple thousands of dollars per year in labor costs. On the low end, many businesses – not just construction – report saving thousands of dollars just not having to spend the time on filing tasks.
Document management software also saves time (and ultimately money) searching for lost documents. It is estimated that recreating misfiled or misplaced documents can cost as much as $250 each.
How many times have you scrambled to find lost documents just this year so far?
The Bottom Line
Construction document management software presents you with an effective way to save your money and time for your business. If you haven't tried it, the time is now to take the first step and check out some of the resources listed above.