How to Promote Employee Benefits During Recruitment
Getting More from Recruitment by Promoting Employee Benefits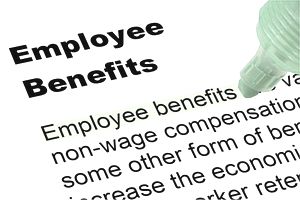 It should not come as any surprise that the best companies out there today are actively using their employee benefits and salary ranges to attract talent. Companies that provide avenues for employees to grow as professionals while contributing to their well-being are typically the companies that top talent will gravitate towards. Very often, these same companies will offer employee benefits that are far superior to other companies.
While the perks of working for a company can vary, it's undeniable that the employee benefits can factor heavily in a candidate's decision of where they choose to work. The Society for Human Resource Management issued a survey that indicated that one-third of businesses use their employee benefits programs to attract and recruit employees. It's very possible for your company to promote well-being and benefits as part of your overall package.
Here are some ways to promote your employee benefits for more effective recruiting.
Build a Corporate Brand Around Employee Benefits
Each organization has plenty to offer in terms of employee benefits, even on a small budget. The key is to create a brand buzz around the benefits and perks offered, highlighting the best your company can offer to employees. A great way to do this is by putting together a career portal that displays information about the many benefits offered to employees, and shares success stories of employees who have made the most of things.
Bring all of this branding together with well-designed marketing materials that can be handed out to candidates during interviews, reviewed with candidates and their spouses, and downloadable from the company website. Host free recruitment webinars that include a rundown of the employee benefits and what's available for new hires.
Include information about health benefits, employee career development benefits, and any unique perks that the company offers.
Create a Culture Centered on Employee Wellness and Balance
Studies have shown that Millennials, who now make up the majority of the workforce, are more interested in working for employers who honor real work life balance. While benefits like health insurance, life insurance, retirement savings plans, and other perks are important – younger generations are looking for ways to increase their personal time to include healthy activities.
A workplace culture that honors employee wellness and balance is powerful in terms of recruitment. Make it a point to indicate how your organization is promoting work life balance, healthier lifestyles, and overall wellness for employees and their families. Success stories and personal testimonials can also be used here to support the cultural values.
Give Candidates a Closer Look at Your Corporate Wellness Program
Along with the above educational components of making candidates aware of the ways the company promotes wellness, give your candidates a closer look at the corporate wellness program. When you invite candidates to your facility for an interview, take the time to give them a full building tour, including a walk-through of your corporate wellness provisions.
This can include your lunch room where healthy meals are prepared, your onsite walking paths and gym space, and your open air patio where employees can unwind during stressful times.
As often as possible, talk about ways that your company is contributing to the wellness community through participation in school sports, and events like 5k runs, pedometer walking contests, and donating to food banks. Have an open house / job fair onsite and include wellness events and services as part of the day. Have a health fair once a year and invite the public to attend.
Share Some Facts and Figures About the Health of Your Employees
Throughout the recruitment cycle, from advertising to onboarding, let all candidates know how the employee benefits and wellness initiatives at your organization are contributing to better health for employees.
Use facts and figures to back this up. Where can this data be obtained? The insurance administrators can provide information about the number of health claims, the dollar value, and the number of participants in wellness programs like smoking cessation and weight loss, and the actual costs of treatment plans for the most common ailments.
For example, five years ago your organization may have had 40 percent of the workforce smoking, but due to the benefits offered, 80 percent of those employees have successfully kicked the habit for five or more years, resulting in a cost savings of $4,000 per year on health premiums.
Focus on Diversity of Benefits During Recruitment
Recruitment is further supported by diversity in hiring and in selection of employee benefits. Keep in mind that there are five very unique generations in the workforce, each with needs that are very different. Millennials and Generation Z candidates may be looking for the very minimum in health care benefits while Generation X and Baby Boomers are looking for more health care coverage and retirement savings options.
Build a lot of value into all of your employee benefits by offering low-cost voluntary benefit options, like pet insurance, supplemental life insurance, dental and vision care plans, and more. Don't forget "free" benefits that offer support to a more diverse employee population, such as an employee assistance program or a live telemedicine hotline, so that all employees have access to caring counseling when needed.
Provide Referral Incentives in the Form of Additional Benefits
Many companies also extend their recruitment efforts by providing incentives for current employees to refer colleagues for work opportunities. This saves both time and money in terms of recruitment, and it aids in building stronger teams. Provide your current employees with generous incentives by offering cash incentives for referring peers for work, and include discounts and other perks for successfully helping onboard these new hires.
For example, a nice perk may be offering a free meal certificate to the new hire and the referring employee for a week's worth of healthy lunches. Another option may be to lower the health care premiums by a percentage for every new hire that stays with the company for 30 days or longer. Or you could provide an extra paid day off for helping with the interview process by volunteering to conduct office tours with candidates. Be creative, as there are many ways to say thanks to your employees for bringing their best colleagues into the company.
A Final Thought 
The above tips are just a few of the many ways that employee benefits can be used to support recruitment efforts in your company. Remember, that when employers promote wellness it's a win win for everyone. Employees who are healthy and mindful of their well-being are generally happier and more productive. When they know they are working for an organization that supports their wellness goals, they can be more loyal to the ideals of this culture of wellness too.