How to Prepare for Halloween Selling on eBay
How to Spot Trends and Sell All Year Long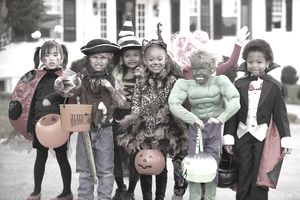 What should you be selling on eBay that will be hot for Halloween this year? The information about hot Halloween costumes and trends is available on the internet, as long as you know where to look. With the release of a new movie, there is always the release of merchandise associated with the film. Marketers are very smart about promoting related consumer items for movie fans while creating a completely different stream of income aside from the actual movie.
Items like apparel, toys, games, food containers and Halloween costumes are big business.
Google Trends Movies
Google Trends provides a list of the top 10 trending and most searched movies every month. eBay sellers should keep their eye on Google Trends to stay informed about what consumers are interested in, and what they are buying. A smart entrepreneur is one who stays updated on the current trends so she can seize opportunities as they arise. If you don't know what's popular, you can't offer it to your customers.
Sometimes, there is a limited window of opportunity for making money with pop culture merchandise, so you must act quickly and strike while the iron is hot to make money with movie-themed items. For example, Suicide Squad was the top trending movie in August, 2016. There are 88,000 items for sale on eBay with the keywords "Suicide Squad," and 45,000 completed listings with these keywords.
 The clothing category shows 9,500 sold listings for Suicide Squad costumes, with over 7,000 sold items including the keywords "Harley Quinn."
Toys R Us Website and Sale Circular
Toys R Us starts promoting for Halloween very early. Check their website to see what is promoted. Remember, TRU is a multi-million dollar company, and has highly-paid marketing executives to drive traffic to their site and into their stores.
They understand how to market and how to sell to millions of customers. Follow their lead. For example, Toys R Us may be promoting the latest superhero movie, a remake of a classic, or adventure film characters. 
The Disney Store
The Disney Store is another resource for planning your Halloween selling strategy. Like Toys R Us, Disney's target audience is children. When visiting the site, go to the costumes section, and sort the results by most popular. You'll get an idea of what is trending and purchased most often. The classics are always a hit. For girls, Cinderella, Pocahontas, Snow White, TinkerBell, and any princess are hot sellers every year. For boys, Toy Story characters, Spiderman, and Cars costumes are always popular.
Popular Every Year
There are tried and true costumes every year, regardless of what is trending at the time. Some are based on classic books or movies, others are just fun for Halloween. For example, these costumes have been popular every Halloween for the last three decades - or even longer:
Alice in Wonderland
Batman
Cat
Clown
Cowgirl / cowboy
Devil
Doctor
Dorothy from Wizard of Oz
Firefighter
Ladybug
Nurse
Pirate
Police officer
Prisoner / convict
Pumpkin
Punk rocker
Sailor
Tom Sawyer / Huckleberry Finn
Halloween Isn't Just for Kids!
Remember that Halloween is a fun holiday for adults, too! They like to dress up just as much as kids, or maybe even more. Most stores like Party City and Spirit Halloween have as many items for adults as they do for children. or Keep your eye out in thrift stores and at garage sales for items that could be part of a costume or accessorize a costume. For example, some good Halloween accessories include:
Capes
Hats (top hat, straw hat, anything unusual)
Gloves
Military jackets
Petticoats
Referee shirts
Short skirts (80's chick, sexy waitress)
Long skirts (gypsy, witch, pioneer woman)
Tall boots
Trench coats
Vests
Wands
Wigs
Many shoppers look to eBay to find the right accessory to complete their costumes.
Buy Halloween Costumes All Year Long to Resell
While Halloween is on everyone's mind during September and October, costumes and accessories sell all year long on eBay.
There are many reasons why. 
Kids love to play dress up all year! Parents don't limit dress up play to only Halloween.
Drama clubs and theater groups are always looking for clothing, accessories, and props to add to their collection. They don't care if the item is used or even has defects. When performing on the stage the audience can't see close up so many times defects don't even matter. It is much cheaper for a non-profit drama club or recreational theater group to buy used items from eBay than to make them from scratch.
Photographers often keep a stash of costumes, accessories, and props in their studio to enhance photography and modeling sessions. They can order exactly what they need from eBay and grow their collection. Photographers and models may purchase glamor type clothing from eBay. It is ok if the item is damaged or defective. If you see an interesting or beautiful sequin pageant dress with a stain or tear, list it anyway! Photographers can position the model in a way that the defect doesn't show if it is on the back or near the hem. And remember that photographers are adept at using Photoshop to hide flaws in photos.
With this in mind, many sellers buy costumes on markdown or clearance after Halloween. Stores like Target, Walmart, Party City, Toys R Us, Costco, and Walgreens will mark down Halloween items to 89-90 percent off the retail price after Halloween. Use caution when applying this strategy. Always go wide rather than deep on eBay inventory. (Meaning, it is better to buy a variety of different kinds of items across different categories than to buy a large amount of something.
It is never too early to start preparing for Halloween selling on eBay. Keep your eye out for costumes, accessories and props when you are outsourcing items all year. You will be surprised at what sells during the off-season.