How to Prepare for a Sports Career in Social Media
Interview with Rebecca Corman, Oakland Raiders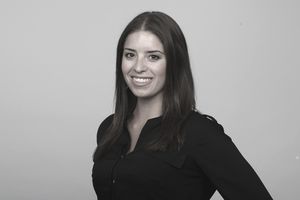 Rebecca Corman has worked for the Oakland Raiders since 2009, where she is Digital/Social Media Content Coordinator.  This interview highlights her current role, as well as exploring how she prepared for her career in social media. 
Q: You completed several internships before landing a full-time position.  How did the Internships factor into your career planning?
Corman: I called myself a professional intern because I had four internships, not including an athletic department internship in college, before I landed a job.
The internships were essential to not only finding out what I wanted to do, but also what I did not want to do, in my career. My various internships also allowed me to network. Finding a job in the sports industry (besides proving yourself with hard work and dedication) is about who you know and being in the right place at the right time.
Q: How did you prepare for your role in social media, given that there was virtually no social media when your career began?
Corman: Although social media posts are usually one to two sentences (or 140 characters on Twitter), they are still written pieces of content. My preparation for my role in social media came in learning how to write. The key to a good portion of my job is being able to write in different forms – tweets, Facebook posts, Raiders.com stories, headlines, etc.
Another component of social media is observation – figuring out what works and what doesn't on a day-to-day basis.
What do the fans want? If you can begin to understand what's effective for your brand, you're one step closer to success when it comes to social media.
You also have to have a sense of humor. Many of the best social media posts have some sarcasm or wit.
Q: Many advise being mentored early in your career.  Have you had a mentor? Was it a single person or several people?  Within your organization or outside?
Corman: I think I learned the most about working in the sports industry during my first class at the University of San Francisco in the Sport Management Master's Program with Professor Rich Cellini. I am constantly recalling his sayings and suggestions. After several years in the industry, I continue to realize that all of his sayings are true.
Q: What is your biggest challenge during the NFL off season, in terms of creating content?
Corman: The good thing about the NFL is there is not much of an off season anymore. As soon as the regular season ends, if we're not in the playoffs, we have the Pro Bowl, NFL Combine, free agency, the schedule release, the draft, off season workouts, OTAs. This is not to say that content is always easy to come by. There are a couple of months where we have to be creative to get new content online every day. It is our job in the digital media department to figure out what we can post to keep the fans actively interested in the team. When the players are away, we have to come up with stories, photo galleries, and videos that do not require their participation. In the past, our off season content has included season recaps, history pieces and a look ahead at the upcoming season.
Q: What advice would you give to an undergraduate looking to start a career in sports?
Corman: I earned my undergraduate degree in international studies at the University of Washington, which obviously has little to do with sports. It worked for me because I really enjoyed what I studied and got the most out of my education that way. Pick something you love, sports or otherwise. Then, get involved in your athletic department or a local sports team.
Take classes that require you to write! Your ability to construct sentences and concise, coherent thoughts, are critical to success in the sports industry, and any job for that matter.
Don't limit yourself to one type of work in sports. Try whatever is available - you may be surprised by how much you enjoy it, how much you're able to learn, and who you are able to meet.
Thank you to Ms. Corman for sharing her experiences and insights. 
If you are interested in exploring career opportunities with the Oakland Raiders, click here.